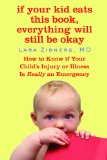 Raise your hand if you've ever stood in front of your sick child trying to figure out if her symptoms warrant a middle-of-the-night call to the pediatrician service, or if you can cuddle her back to sleep and figure it out in the morning. Is there any parent reading this without a hand in the air?
Intrigued? Click over to 5 Minutes for Mom to read my full review and enter to win one of five copies.
At this very moment, it's highly likely that Dawn is either reading a book or bandaging up a scraped knee. Details can always be found on her blog, my thoughts exactly.