What would life be like if, at age 13, you learned you were switched at birth?
How would you, as a mother, feel if you watched your child die, only to discover that she wasn't your child after all?
It's a dilemma no one dreams of facing, and exactly where Andie Lockhart and Marty Winslow find themselves in Tuesday Night at the Blue Moon by Debbie Fuller Thomas. The book was nominated for 2009 Christy Award.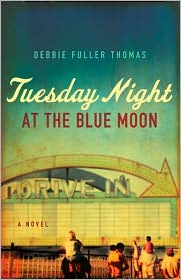 The novel opens with Marty gaining custody of Andie, an orphan who's been living with her grandparents. Only Andie's not really an orphan. Marty and her ex-husband are Andie's biological parents. Marty had raised Ginger, who died from a rare hereditary disease that no one in Marty's family had ever heard of. Perhaps as a result of her grief and longing to replace Ginger, Marty determines that Andie's grandparents aren't capable of parenting the teen and sues for custody. Andie has already lost so much, and having to move to a town and a family that are completely foreign to her is nearly more than she can bear.
Fuller gives alternating first-person accounts of mother and daughter. Each tries to cope with this new discovery, while grieving the devastating losses they've endured. Thomas does a masterful job of making the reader feel compassion for both characters. I found myself debating whether Andie should be forced to stay with her new family or allowed to return to her grandparents. Just as I was putting myself in her shoes, Thomas would bring the story back to Marty's point of view. I'd start to wonder how hard I would fight to gain my daughter.
The ending may be a little too neat, but Tuesday Night at the Blue Moon is a compelling read about the difference in the family life we dream of and the one we actually have.
Melissa has been captivated by books for as long as she can remember. She resides in Virginia and blogs at Breath of Life.