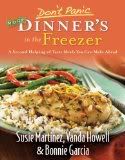 I enjoy cooking, but most of the time, life is so busy that I don't really have a chance to enjoy it. I am often wondering, "What can I fix as quickly and easily as possible?" Most often, I am asking this question a few hours before needing to feed my hungry crew. In the past, I have considered cooking in advance, but I have never made much of an effort to do this.
With Don't Panic–More Dinner's in the Freezer
, you can cook once a week, or even once a month, and prepare great meals for your family. This book is full of recipes that you can prepare in larger quantities and freeze. The first section of the book includes preparation tips, charts for how long certain foods can stay in the freezer, and even grocery shopping hints. After that, you jump right into recipes like Santa Fe Chicken Nachos, Calypso Salmon, Herb Crusted Pork Chops, etc… YUM!
Don't Panic–More Dinner's in the Freezer
includes recipes for appetizers, breads, soups, poultry, fish, beef, pork, pizza, pasta, sides, and desserts. The book also includes symbols to alert you if the recipe is lighter fare, good for the crockpot, quick, or perfect for entertaining. I especially like the chart in each recipe that explains how much of each ingredient you need to multiply the recipe by 2, 4, or 6 (e.g. a basic recipe of cocktail meatballs yields 48, but the chart explains what you need for 96, 192, or 286 meatballs).
The only aspect of this book I would change is that there are no pictures of the recipes. I am a visual girl when it comes to food, so I appreciate seeing what I will be making. I do, however, think this cookbook is a wonderful tool, and I plan to fill my freezer with some new meals. Won't it be nice to pull something out of the freezer and be ready to feed my family with little prep time and less mess!
Lauren is a wife, a mother of two, and an avid reader. She blogs at Baseballs and Bows.