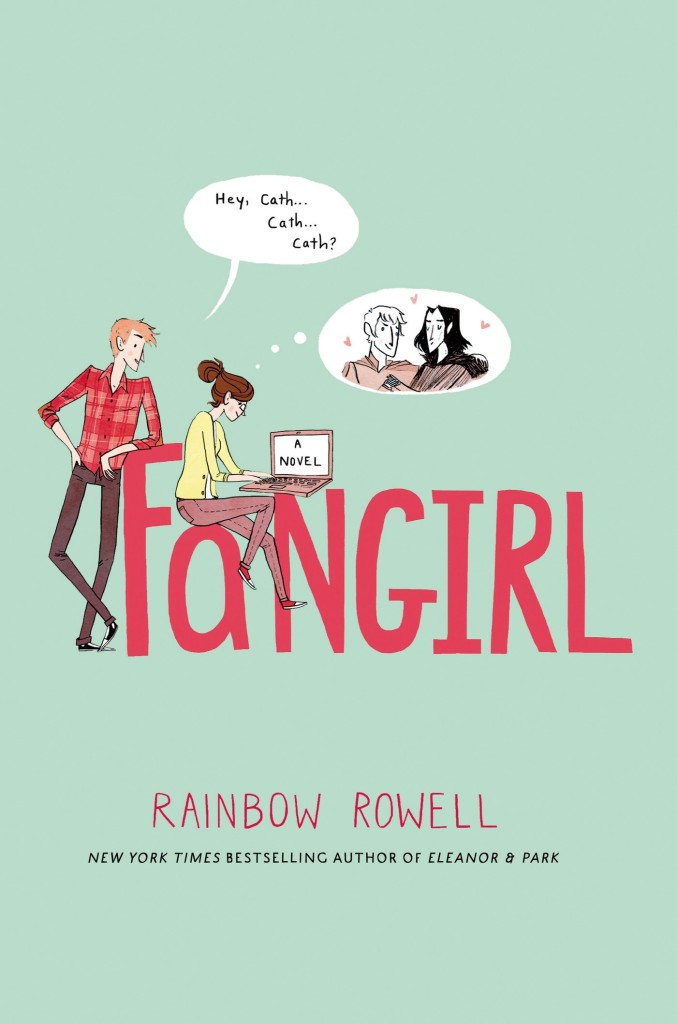 Cath and her twin sister Wren are college freshmen. Even though they've always been different and led somewhat different lives, they've both shared a love of Simon Snow (think Harry Potter), so much so that they write fan fiction on the fan site. Wren wants to start fresh in college, even choosing to room with someone else instead of her sister. They've been roommates their whole life! Cath worries about her sister Wren, she worries about her dad, who they've left back home. She doesn't seem to worry about making friends, but doesn't do much about it either.
I'm not a young adult. I'm old enough to be Cath's mom–a young mom, but still. I read young adult and children's novels, both for my own enjoyment, and to keep up/share/suggest with my teen daughter Amanda. Fangirl grabbed me in such a way as to make it exceptional.
But why?
Was it the lovable, slightly pathetic, completely socially awkward Cath? Well, yes, in part. And maybe even though I'm more A than Y, I could still relate to her because I spent more of my freshman year shut up in my room reading than partying or mingling.
Was it her brusque yet surprisingly warm-hearted and observant roommate Reagan?
Was it mysterious Nick with the periwinkle wingtips?
Was it lovable Levi, who never meets a stranger?
It was all of them. I laughed out loud and found myself constantly smiling as I read this book. I powered through it in just over a day's time. It charmed me. I wasn't crazy about the ending, but honestly, that's probably just because it meant the book ended. There were no neat, tidy bows or over the top resolutions, but that was good. It kept it real.
CONTENT NOTE (for you moms who are curious):
Cath is a college freshman, so this is for sure a novel for older high schoolers and up (Adults too, really, let yourself be charmed). College stuff goes on: drinking, sleepovers, etc. There's also a fair amount of language. But the drinking isn't glorified and there's no explicit sexual content.