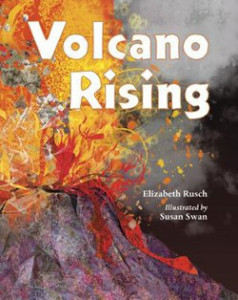 My son has recently become interested in all sorts of natural disasters. Volcanos are cool because they are filled with dangerous and deadly lava. He doesn't like natural disasters in the sense that he wants to get anywhere near them but he does have this morbid curiosity in learning more about them. So when offered a chance to take a peek at Volcano Rising
, I couldn't rightly say no.
This book explains the making and working of a volcano in a very easy-to-understand manner. Written towards grade schoolers, this book offers a paragraph or two of information per page on how volcanoes are formed, what makes them erupt, where they are located and how they have changed landscapes (among other things).
The creationist in me was remarkably pleased that the book avoiding much of the theory of evolution when explaining the inner workings of a volcano. The phrase "hundreds of thousands of years" is used at one point but otherwise it keeps to neutral ground. In fact, one of the particular aspects of this book which I really rather loved was the explanations and examples given of several volcanoes which formed in just a matter of a decade! This earth is astounding and amazing and I love that this book recognizes the wonder which is our ever changing planet and encourages kids to be excited about the beauty that we can see all around us. Yes, even the beauty of hot flowing lava.
The illustrations in this book are done by Susan Swan and are excellent. I offer further picture proof for your enjoyment: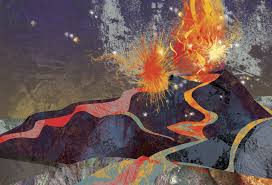 I highly recommend this picture book to any grade schooler who wants to know more about volcanos.
My thanks to Charlesbridge publishers who sent a copy of this book to me in order to facilitate this review. I received no additional compensation and all opinions expressed are 150% my own.
Carrie blogs about books for adults and children regularly over at Reading to Know.