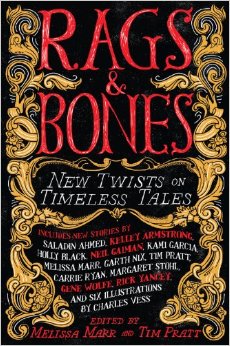 There are reasons some tales endure–because they speak to our hearts, to our fears and fantasies, to our wildest imaginations and to our wishes too deep for words. Editors Melissa Marr and Tim Pratt asked 10 other authors to join them in taking favorite stories from literature and, as it were, boiling them down to their bones, seeing what essence survived, then rebuilding them afresh in a modern setting. The result is Rags & Bones: New Twists on Timeless Tales
, a thoroughly delightful look at old tales through new eyes.
This is a fantastic collection of stories, with something in it for everyone. From Kate Chopin's "The Awakening" imagined in a world of selchies and the men who would try to capture them, to a dystopian setting for "The Monkey's Paw," to the thrill and horror of Le Fanu's "Carmilla," each story was a delight to decipher and ponder. And those of us who remember struggling through Spenser's "Fairie Queene" in freshman Lit and recall the murderous Saracen brothers will enjoy Saladin Ahmed's take on the tale from the brothers' point of view. The book also includes 6 delicately drawn and beautifully rendered illustrations of fantasy classics.
Some of the stories have really stuck in my mind. Rick Yancey's reimagining of Hawthorne's "The Birthmark" is a case in point. He sets the tale in a future where the very rich have made themselves immortal by putting all that is important about the Self on a card that can be uploaded to a new body. Naturally everyone is stunningly beautiful, and one bride changes her body just before her wedding because she knows her groom likes green eyes. In a world where beauty can last forever and immortality is available for those born into certain families, however, one man discovers true beauty only in a serving girl who lives in unimaginable (to him) conditions and whose beauty will fade after only a few short years. Here and here only does he truly love.
Part of the fun of Rags & Bones
is guessing which story is being retold, but since the influences range so wildly, I was only right a few times as many of the original stories were new to me. (More to read!) Neil Gaiman's retelling of Sleeping Beauty was easily guessed at, but his story was still one of my favorites–I loved his twists and, as always, his writing. I would never have guessed Rumpelstiltskin from Kami Garcia's dark story, but after she explained it, I could see it. Each story is followed by a paragraph or two from the author, explaining his or her inspiration and direction.
This is a thoroughly delightful book. From gothic thriller to dystopian fantasy, from horror to romance, there really is something for pretty much all tastes. Each story is exquisitely told and, like all great literature, leave us with much to ponder. I highly highly recommend this book, and I'm looking forward to sharing it with my teenage daughter.
Enter to Win
Just in time for Halloween, we have a great giveaway! I'm thrilled to announce one of you can win your very own copy! Start off by entering your name and email address in the Leave a comment below to be entered to win and, if it doesn't take too much mental energy, tell me your favorite fairy tale or short story.
Check out our current giveaways. Subscribe to our feed. Follow us @5M4B on Twitter or on Facebook.