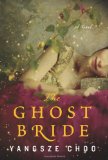 Li Lan is a Straits-Chinese living in Malaya (now Malaysia) in 1893. Her mother died of smallpox when she was a child, and ever since, her father has smoked opium and lived in the past, allowing his business to crumble and his debts to accrue even as he hides his pock-marked face from the world. Li Lan has known little of the outside world, and is shocked when her father comes to her with a marriage offer from one of the town's wealthiest families who are looking for a "ghost bride" for their recently-dead son. This practice would allow her to become a part of the family, helping out her own father and household, and she would be treated as a wealthy widow. Li Lan isn't interested, and although it's evident her father wants her to go ahead with the unusual marriage (which was practiced occasionally in that time and place), her Amah, the nanny who's raised her, sides with her in rejecting the offer. Apparently the spoiled rich young man, Lim Tian Ching, saw her in a market before his death and was drawn to her beauty. Li Lan visits the house and soon after begins to be haunted by Lim Tian Ching's spirit, who harasses her in dreams and nightmares, pleading, demanding, and threatening all at once.
Li Lan meets Lim Tian Ching's cousin, the handsome and kind Tian Bai, and is drawn to him. In dreams, Lim Tian Ching accuse Tian Bai of poisoning him, and vows revenge. Amah takes Li Lan to see a medium to help with her bad dreams and the medium prescribes a powder. Li Lan takes too much of it and ends up with her spirit separated from her body, and unable to return because of other parts of the medium's protection around the house. Her quest to return to her body and figure out what's going on will lead her deep into the underworld, in search of Lim Tian Ching, corrupt officials of hell, and more. She'll discover inner strength and wits as she navigates strange new places and people (or "people," I suppose one must say). Her adventures include ox-headed demons, dragons with shimmering scales, scheming ghosts, and much more. And what should she make of the mysterious but helpful Er Lang?
The Ghost Bride
is a really unusual book, and I found it hard to put down. It's part folklore, exploring ancient Chinese beliefs of the afterworld as if they were reality. It really isn't like anything I've ever read before, although certain elements reminded me a bit of Amy Tan's early work, which is high praise in my opinion. It's got elements of fantasy and romance, but in many ways it's a coming of age tale, as Li Lan learns to navigate in a world where few people are really on her side, and to do so with wit, wisdom and grace. I highly, highly recommend it.