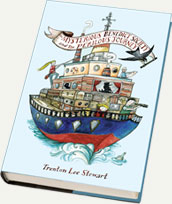 I recently read The Mysterious Benedict Society by Trenton Lee Stewart (you can read my review of the first book here) and LOVED it! Almost immediately I sought out the sequel to the book. It did not disappoint in the least.
In the second book, The Mysterious Benedict Society and the Perilous Adventure, we are sent on yet another adventure with the four childhood members of the Mysterious Benedict Society. We are given new sets of riddles and clues to solve the latest and greatest problem and rescue the world from danger it does not know exists.
I don't want to spoil this book in any way so I won't go into too much detail as to the story line. To bring you up to speed, if you have not yet heard of these books, four "remarkable children" are brought together to avert disaster. Through a secret plot, the adversary in these books wishes to (pretty much) take control of the world. Through the bravery and dedication of these young children, and their faithfulness to the unpleasant task at hand, danger is staved off to be faced another day.
This is a fantastic original tale that reminds me of no other. It is earmarked for children ages 9-12 but it has adult appeal as well. Another reason I love these books is that they are admirably clean for a "tween" book. Although the book appears to be written as having taken place in our modern age, there are no pop culture references that would date this tale. It's a timeless read that I imagine is on it's way to becoming a classic. It is a moral story and, if you use it well, should produce an excellent opportunity to share your own life and beliefs with your offspring. (In so much as they ever discuss life with their authority figures.) It is worth their time and yours, no doubt.
I normally am not a fan of fad reading. If reading about The Mysterious Benedict Society (a New York Times bestseller) makes me a fad reader then so be it! I rather like to be on the front end of this craze instead of being found running to catch up. Care to join me? I'm on pins and needles hoping for a third installment. Please, please, please, Mr. Stewart — give us more!
Carrie comes by her book obsession honestly, having descended from a long line of bibliophiles. She blogs about books regularly at Reading to Know.