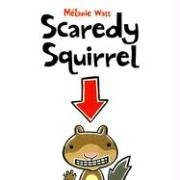 I received two books from Kids Can Press that are both told in a tongue-and-cheek manner. First we meet Scaredy Squirrel who has an exit and emergency plan from his nut tree for every possible occasion. Too scared to leave his home, he spends his days eating nuts and taking in the view. That is, of course, until a "killer bee" invaded his tree and he discovered new things about himself as he unintentionally explores the world outside his comfort zone. Illustration-wise it's a bit too busy for younger children. I'd peg it for a child between the ages of 7 and 11. Any adult reading the book out loud will probably get a kick out of it also.
Not to be outdone, for kids ages 9-12 there is Sir Reginald's Logbook.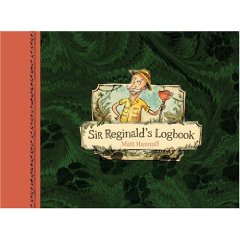 Sir Reginald is like Calvin (without sidekick Hobbes) all grown up and with a mustache. Danger and evil lurks behind every corner, of course, and his wrestles with his trousers are greatly exaggerated for the reader's good pleasure. Excellently done. The "beasts" he encounters on his adventure in the wild and unknown are illustrated in a somewhat creepy manner which might make this book inappropriate for anyone younger than 6, I would think. However, the reality of Sir Reginald's life can be thoughtfully and easily explained by the adult reader which should alleviate any stress on the youngster involved. Adults will absolutely enjoy reading this book with their children. It is due to be released September 1st and I highly recommend it for a good laugh and a good time!
Carrie comes by her book obsession honestly, having descended from a long line of bibliophiles. She blogs about books regularly at Reading to Know.