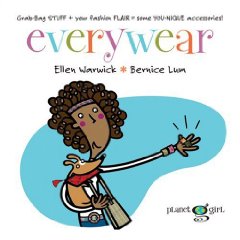 The day I received Everywear (Planet Girl) in the mail, my 9 year old daughter, CJ, pounced on it. It didn't take her any time to find something she wants to make. Her only problem was deciding what to make first! I have to admit, the book is different than I'd expected; but I think that comes from the fact that I'm not a tween girl in the new millennium. CJ, on the other hand, absolutely loves it.
The book is divided into sections: Introduction & Safety (though it's not called that); Updo it (Hair Accessories); Flash It (Jewelry); Wear It (belt, hat, etc); and Strut It (purses). The items are fashionable yet affordable (in some cases, FREE), and GREEN. I like that the book stresses creativity and being unique.
Anyone can buy the same accessories that everyone else does, but where's the FUN in that? Doll up your duds with your own UNIQUE CHIC!
I should mention that several projects require sewing (safety tips are given), which makes it more appropriate for tweens/teens than younger children.
Everywear is a great gift idea sure to please that crafty-girl in your life.
Melissa is a not-so-crafty girl raising a most-definite crafty-girl. She resides in Virginia and at Breath of Life