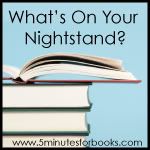 I was thrilled with our first month's Nightstand carnival. I hope that you took the opportunity to visit some of the other participants. I know I heard from a few of you that you really enjoyed the chance to share your love of books with others.
So another month is here. You can participate in What's on Your Nightstand? in several ways. You can cover one or all of these topics:
Take a picture or simply give a list of the stack of books that you are in the process of reading or planning to read (it might be on your nightstand, on a bookshelf, or like me, under your bed).
Give short reviews of the book or books that you read that month.
Tell about what you are reading and why. I love to read the backstory on books. Did someone give it to you? Are you trying out a new genre at the recommendation of a friend (or website)? Did you stumble across a new author in a used bookstore?
Fill us in on your reading habits. When are you reading these books? Is one reserved for bedtime reading? Does one stay in your car to be read while you are waiting? Do you read just one book at a time?
If you've followed someone else's post over here, and it's past Tuesday, feel free to go ahead and link up. I will close the linky on September 10. If you want to participate after that, save it for next month and join in then.

September has five Tuesdays. Next month you will find us here on the fourth Tuesday, September 23 at 8:00 a.m. Eastern.
In the meantime, you can join us for our other Tuesday features:

1st Tuesday: Classics Bookclub
2nd Tuesday: Children's Classics
3rd Tuesday: Kids' Picks (similar to Nightstand — what your children have enjoyed recently!) More info coming soon.
4th Tuesday: What's on Your Nightstand?

Links are now closed. Please join us on September 23 for the September edition of the carnival.
What's on Your Nightstand? Participants
Powered by… Mister Linky's Magical Widgets.