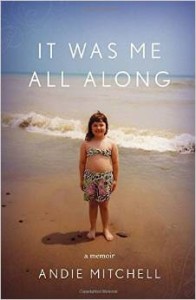 If you are a fan of memoir, I highly recommend this book. It is described as a "weight-loss memoir," and yes, that's her primary struggle, but it has all the structure and flow of any really great memoir. Andie Mitchell is descriptive (yet never shares TMI), honest, insightful and funny.
Though her primary challenge is her obesity and her relationship with food, she shares about growing up with a mother who was loving, but absent, since she had to work so much to support the family, and an alcoholic father who was dangerous in the way that alcoholics can be.
It Was Me All Along takes us from her childhood through post-college, and I could relate to all those times in her life as she grew into adulthood — the anticipation of a first date, a first kiss, the reality of first love, the quick strong deep friendships college can forge.
Her writing is not just prose. It's lyrical and evocative. Some of the passages I marked (all from the Advanced Reader's Copy):
"Guilt has a way of resisting digestion…It stretches out inside me, doubles its size by uncurling its chubby arms and legs. It kicks and groans every slip of the way down. It reminds me, shames me, at every twist, every turn. And when it plops down at last upon the base of my stomach, it stays for days, unwelcome" (page 2-3).
"A group of us sat circled in my dorm room amid a landfill of red plastic cups and grease-soaked D.P. Dough calzone boxes, while Jay-Z threatened to call my RA for yet another noise violation" (page 97).
"Those were the trying times. Those were the minutes, the hours, when I needed to brace myself and ride it out. They are the ones that make up character. Because, really, how we act when times are just peachy is nothing compared to how we act when times are rotten" (page 129).
Whether you have issues with food or weight you would like to explore a bit more by reading about another's struggle, or if you want to follow someone's interesting and well-written journey through that growth period of high school and college, or if you are just a die-hard memoir fan, I can highly recommend It Was Me All Along: A Memoir.