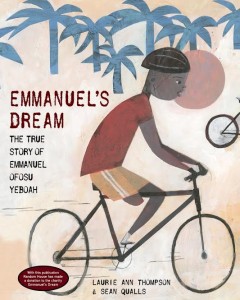 When nonfiction reads like a story, children can get lost in the story. In the case of Emmanuel's Dream: The True Story of Emmanuel Ofosu Yeboah by Laurie Ann Thompson and illustrated by Sean Qualls, I found I even needed to remind myself that this lyrically told, incredible story was in fact a true one. Children and adults alike, prepare to be amazed.
Emmanuel Ofosu Yeboah was born with a significant physical deformity in his right leg. In his community in Ghana, there was little, if any, respect for people with disabilities. Though his father left, his mother had faith in his ability to overcome his disability and live a "normal" life. He learned to adapt- crawling and hopping to get around, shining shoes for money, and continuing to go to school even when he was too big for his mother to assist him in his travel back and forth. As a child, he simply learned to hop independently to and from school, with a distance of two miles each way.
Just let that sink in.
His resolve only strengthened as he grew older, and this book details several times in his childhood in which he pushed himself in ways most adults cannot even fathom. The book's ending chronicles his journey almost 400 miles across Ghana on a bicycle in ten days to raise awareness of the community of people living with disabilities. With his right leg tied to the frame of his bike, Emmanuel Yeboah did what most thought simply impossible.
This incredible tale is told in a beautiful storytelling tone, and the illustrations are bold and engaging. The depth of Emmanuel's accomplishments is apparent to even very young children listening to this story, and the author's note in the end provides more information about his continuing story. What I found myself emphasizing most from this note to my elementary school aged children was that Emmanuel's acts and activism played a large role in the passing of the Persons with Disability Act by the Ghanaian Parliament in 2006, giving people with disabilities the same rights as everyone else in Ghana. What an impact one person can have!
Please put this book in the hands of a young person in your life– to inform them, to amaze them, and to move them. As it states on the back cover: "One person can change the world."