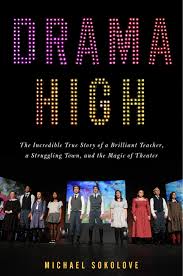 I requested this book a long time ago, but then I got caught up in the Cybils frenzy, so I didn't even get to open it until my long leisurely (post-Cybils!) Christmas holidays. I was glad that I started reading it on a long road trip, because I didn't want to put it down. I read the entire long book in a long day of driving. It is exactly the kind of non-fiction that fascinates me.
I do like theater, so reading about big hits like Les Mis, Spring Awakenings and Rent piloting their shows on Lou Volpe's high school stage in working-class Levittown, Pennsylvania was fascinating. But it's not just the subject matter, it's the writing from Michael Sokolove which straddles the line of objective reporting and personal involvement perfectly. Sokolove was one of Volpe's students when he first started teaching at the school decades before, so he lends personal perspective there, as well as his own thoughts about growing up in Levittown, PA. I thought this made the book stronger.
Drama High: The Incredible True Story of a Brilliant Teacher, a Struggling Town, and the Magic of Theater basically tells about how in a school where many kids have to struggle to keep up, due to balancing work and school as a matter a necessity, the drama department pulled them together. Instead of traditional high school fare put on by the same core of drama and chorus kids, Volpe pushed the envelope in what he produced, what he expected, and who he involved. Athletes, brains, drama kids, and those who might prefer to stay behind the scenes all ended up involved.
The book delves into the lives of the kids who were the core group of talent in the couple of years that Sokolove spent observing. He also analyzes the socio-economic effect on the townspeople.
Good nonfiction challenges my thinking. Drama High did this by causing me to reevaluate my stance on teens taking on edgy content. I'm not sure I'm totally in favor of it, but I can see how and why it worked here. Good nonfiction also teaches me. I learned about the evolution of a factory town in PA, I got insight into what life in a working class high school is life, and I had a front row seat (pun fully intended) to see what it takes to stage an excellent play, as well as the competitive side of the drama world.
Highly recommended.