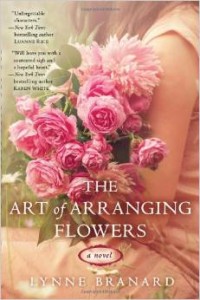 When I picked up The Art of Arranging Flowers by Lynne Branard, I was expecting something light and full of feel good fluff. I wasn't expecting it to be very deep, though I did anticipate enjoying reading it. Needless to say, I was blown away by the emotional connections I ended up creating with the characters and couldn't put the book down as I gorged on reading one blissful afternoon.
Ruby Jewell is damaged, and she knows it. When her sister died 20 years earlier, Ruby was shattered. Her home life hadn't been ideal, and her sister was the best thing about her – or so she believed. It took months of intense grief, but the sight of flowers saved her, and flowers continued to save her from that point forward.
Ruby became not just a florist in her hometown, she became the florist. Granted, there was only one shop, but the arrangements Ruby created were not just good flowers, they saw what was in the giver's heart and communicated it without words. She consistently had anniversary flowers ready for the husband who forgot and knew just what to add to an arrangement to make someone feel better or forgive.
She spends her life creating the perfect arrangement that help arrange the lives of those in the tiny Washington town where she grew up. She creates their lives, yet she doesn't live one of her own. Her own heart is still sealed off, aside from her dog Clementine, who is of course another soul Ruby has saved.
Suddenly, she has a boy who comes to her flower shop who needs a job and worms his way into her heart. His mother has died and his grandmother raises him, with a grandfather who lets him live there because it's the right thing to do, not because he wants him. The local hero, an astronaut who flew to the moon, becomes worms his way in when he unexpectedly invites her to an event with the President. And the new vet in town speaks to her in more than just words, caring for both her and her dog. Ruby realizes that she is surrounded by love of all kinds, and finally she has a chance to live her own life, if she'll only take it.
I adore books that take me places I don't expect to go. I enjoy seeing the growth of characters I come to know and love, not just hte main characters but others in the book, as well. We all have foibles, and when they're presented in a way that shows the author loves them, too, the characters become endearingly human, and we enjoy rooting for them.
Just like real life, The Art of Arranging Flowers isn't all sunshine and roses. Bad things happen. The best possible scenarios don't always come about. But that's ok. Though there are pitfalls, I loved traveling this road with Ruby and Will, John Cash and Dan. Their interactions are so easy, so much like the ones I have with my friends when we're bantering back and forth, that it's easy to fall into a rhythm and feel like you're there in Creekside, a part of all their lives.
Lynne Branard has written other books, though under the name Lynne Hinton (and Jackie Lynn). Regardless of the name, I enjoyed The Art of Arranging Flowers enough that I will definitely be seeking out one of her other 15 books.
Written by Michelle who has a black thumb and is pretty sure she couldn't arrange her way out of a paper bag. Fortunately, she has other talents – especially cooking – that you can see on her blog Honest & Truly! or follow along with her on Twitter where she is also @HonestAndTruly.