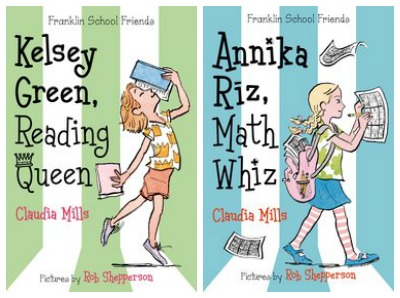 Welcome to Mrs. Molina's third grade class at Franklin School, a fun group of kids, each with their own 'thing.' In the first two books in the series, young chapter book readers are introduced to two girls whose special interests are laid out right in the titles: Kelsey Green, Reading Queen and Annika Riz, Math Whiz.
In the first book, Kelsey Green has her nose in a book– many, many books– throughout the story, as she is working hard to both help her class win the school-wide reading contest, as well as to claim the honor of being the student who has read the highest number of books in the entire school. There are some obstacles in her way, though, such as family events that her parents insist she attend, like her brother's band concerts, and times of the day when she's forced to do something she hates instead of reading… specifically math class. And don't forget Simon, her classmate who is good at everything. Kelsey might see him as a sort of nemesis in the beginning, but maybe she'll discover that they have way more in common than she ever expected. When the reading contest comes to an end, there is a pig who might get kissed and a big, bushy beard that might get shaved off, too!
When Annika Riz becomes the focus in the second book, readers already have a strong sense of her character from the first book, as she, Kelsey, and another classmate Izzy Barr are the best of friends. While Kelsey loves reading, Annika's heart belongs to math. Another contest plays a part in this story, as the public library is running a sudoku challenge, and Annika thinks she has a chance at winning. In between practicing puzzles to increase her speed, she and her friends prepare for the Franklin School carnival, as their third grade class is in charge of providing cookies for the bake sale. Baking and math go hand-in-hand, as the girls soon find out with each error they make ruining another batch of cookies. In more ways than one, Annika helps show her friends how important math is in their everyday life.
My eight-year-old daughter has given this new series two thumbs up, and she's looking forward to Izzy's turn in the spotlight with the upcoming third book Izzy Barr, Running Star. Since she read them independently, I read them on my own, too, and I found them to be a lot of fun. I especially appreciated that the emphasis on the girls' academic interests never became too preachy, which would likely turn kids off to the message. Instead, the girls are relatable and real, and their strengths and interests are just a part of who they are.
Giveaway!
One lucky winner will receive a copy of the first two books in the Franklin School Friends series–Kelsey Green, Reading Queen (in paperback) and Annika Riz, Math Whiz (in hardcover) by Claudia Mills. Follow the instructions in the widget below to enter, U.S. mailing addresses only, please.