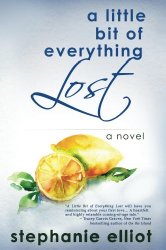 Romantic relationships formed in high school or college can often take on an intensity like nothing else in the world matters. These 'first loves' might not last forever, but their memories certainly can. In the novel A Little Bit of Everything Lost by Stephanie Elliot, these themes are explored, along with some other emotionally heavy issues experienced by the main character, Marnie.
In 2004, Marnie is a married mom of two rambunctious young boys, and her marriage to Stuart is comfortable if not necessarily full of passion. As a pilot, he is away for most of each week, and the time he is home each weekend flies by in the whirlwind of family life. When Marnie finds herself facing a devastating loss, her thoughts return to a time in her life when she was younger, a time of loss that echoes her current desolation. Through flashback storytelling, readers learn of the summer in which Marnie met Joe, a summer filled with passion like she had never before experienced, and a relationship that she had thought would last a lifetime.
At 19, Marnie's life was changed by Joe, but not in the ways she had expected at the end of that fateful summer. More than 15 years later, Marnie can't help but think that the time for closure has finally come, and that for her to find peace, she must first heal the wounds from that summer.
Though my own college years seem like a lifetime ago, I couldn't help but reminisce in some ways as I read this book, for the "first love" experience can be so universal. Elliot perfectly captures those super-intense feelings at the beginning of a relationship during late adolescence, and she doesn't shy away from some racy romantic scenes either! Primarily, this is a novel of love, loss, and healing, and the storytelling is realistic and engaging, in the style of contemporary women's fiction. Some readers may be sensitive to the topic of abortion in the story, but in my opinion, it is presented in a very honest and open manner that depicts an individual's personal, and highly emotional, struggle.
Stephanie Elliot has self-published this novel, and readers may recognize her name in the context of the book blogging world. As "Manic Mommy," Elliot has been reviewing books for many years, first on her blog, and now on her Facebook page, where she offers regular giveaways and connections with contemporary authors.