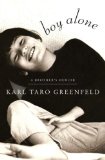 I'm not sure that my review of Karl Taro Greenfeld's memoir, Boy Alone, will read like many other reviews that have been published in the few months since it was released. I routinely do not read reviews of books before I write my own, but my gut tells me that I may be in the minority of reviewers with my purely emotional reaction to this book. That being said, let me just state that this book has affected me in a way that goes beyond just an average read.
Written in three parts, with very distinctive voices matching his age at the time, Greenfeld recounts growing up as the only sibling of a severely autistic child, Noah. Being just about two years older than Noah, Greenfeld doesn't recall life before him, and he shares with us his memories and impressions at the time, throughout his and Noah's early childhood, boyhood and adult life. Without mincing words, Greenfeld is undeniably honest throughout the book, which can be quite jarring and gut-wrenching for a reader to ingest, and I believe that he has gotten some flak from well-intentioned readers who find his honesty difficult to process.
With two dedicated parents who find themselves learning about autism right along with the medical experts in the 1960's, Greenfeld soon realizes that his family's life revolves around trying to help, and learning to live with Noah. Professionally, Greenfeld's father writes about Noah for magazine articles and in books, and his journal entries from the time serve to give a firsthand parental perspective alongside Greenfeld's sibling account. Woven into the memoir aspect of the book is a rich description of the understanding of and treatment options for autism at the time, much of which was shocking for me to read, not having any previous knowledge of the history of autism in this way.
But let me be straight with you, from a sibling's perspective, I've never read an account of this type of childhood experience that was more spot on, and I am humbled by Greenfeld's bravery in expressing his thoughts and feelings as honestly as he does here. My own sister, two years younger as well, was diagnosed with 'mental retardation' as an infant, and much of this memoir was familiar to me, as I grew up with an understanding that her needs simply had to take precedence in our family. The most poignant section of the memoir for me came as Noah got older, as the very real question of his care needed to be tackled– an intensely challenging task with no anywhere-near-perfect solution.
Greenfeld's thoughts and feelings as expressed here go beyond a basic retelling of a complicated family life, forcing readers to look inside a situation that may be unimaginable to them. I respect Greenfeld for his ability to tell his story in Boy Alone, even when the words were not pleasant, and especially when doing so opens him up to the criticism of others. Far from deserving criticism, Greenfeld is simply telling his story, and it is a compelling, painful and difficult story to be told. It is one that people need to read.
Without an ounce of hesitation, I've included this memoir on our list of 5 Star Reads.
When she's able to put a book down, Dawn picks up her laptop to blog away at my thoughts exactly.