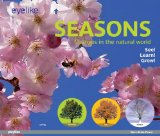 Play Bac Publishing features two amazing book series that we have had the fortune of recently previewing on our own and with our children. With their Eye Like series, particular concepts such as Seasons and Numbers come to life with vivid photographs, artistic layouts, and informative text. These books have kept my preschooler and school aged child interested and engaged on their own individual levels.
If you have younger children, there is a Baby Eye-Like series of books. To round out the series, they also offer Eye-Like Sticker books. Jennifer previewed a couple of these books, and thinks that they are gorgeous. Even within the page, the stickers are arranged by colors. There are some rather large stickers (for example, animals On the Farm that are over 4 inches long). These would provide creative play for a young child who enjoys stickers (as Kyle does), but she can see Amanda (age 10) creating some really nice vignettes with these — perfect for on-the-go activities. They claim to be "reusable" and Jennifer used one of the small circle stickers, pulled it up, and repositioned it a number of times, and it does indeed seem to stick.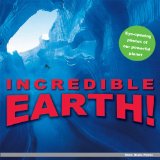 The fun and learning continue with Play Bac's Incredible series, taking you around the globe with Incredible Earth! or into the deep blue with Incredible Ocean! among other topics. Again, I was blown away by the photography that was, well… incredible! Going beyond simple, well-known facts on these subjects, the Incredible books offer up neat tidbits of information to accompany the dazzling pictures. There is simply so much to read and look at in these beautiful books, that they make wonderful additions to any child's home library.
These beautiful children's books have found themselves a place on our list of 5 Star Reads.
Dawn is quite possibly holding a book in her hands this very moment. Or, she's tapping away at the laptop blogging at my thoughts exactly.

If you'd like to win a selection of Eye-Like or Baby Eye-Like books from Play Bac Publishing, leave a comment below stating your preference (U.S. residents only).
Click on the banner above to enter our other Summer Fun Giveaways. All winners will be announced on June 11.