I count Memorial Day as the unofficial start of summer. Many of your children are out of school, or if you are homeschoolers, you have scheduled that nice summer break.
Summer brings downtime, which is great for mommies and daddies, but also sometimes brings cries of "I'm bored!" from the little ones. The warm weather invites more outdoor fun, and schedules are open for travel.
But travel brings it's own challenges: Where do you go? What resources do you want to bring with you? How can you keep the children entertained?
From May 25 – June 7, we will be bringing you giveaways designed to help you get through the summer. We will feature books and games to keep you busy, resources for road-trips, and of course some great summer reading for you and the kids.
We are not able to offer a grand prize giveaway as we did for the Mother's Day Giveaway, but we'd love it if you would spread the word. The better the response is to our contests, the more we can offer you in the future. And we enjoy putting together these giveaway events!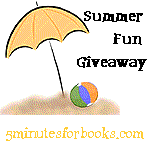 So if you'd like to help spread the word, send out an email to some friends linking to this main post, or tell your twitter followers about it, your Facebook friends, or your blog readers. You can also display the button (linked to this main post) if you'd like.
We'll keep this post updated with each new giveaway. To enter, just click through and leave a comment on each individual post (so that there's no confusion, I've closed comments on this post). We'll announce all the winners on June 11.
Thanks to Webwever for the free clipart.