I myself am taking a long car trip this summer. Really really long. So long that I want to change the topic now. I am stocking up now on activities, new books, workbooks and more to help stave off boredom without just turning on a DVD. Oh, I'll be bringing some of those too, but I try to reserve those for nighttime driving or complete meltdowns.
One product from Peter Pauper Press that I am beyond impressed with is the Safari Adventure Mega MagnaForms – Magnetic Play Set (There's also a Princess set). Now this is a perfect car or airplane activity. I have several criteria for such activities, and this fits them all: It's portable and self-contained (with a nice sturdy pouch to hold the pieces), it has several different activities within the one set, and it's easy enough for my child to use on his own.
Some of the activities include a junior picture sudoko (reusable, because it uses the magnets), several different play scenes to use the magnets on, tic-tac-toe, pattern completion, and several other games. You can see see some of the different two-page spreads at the Peter Pauper site. It's perfect for ages four and up.
The Scratch & Sketch books from Peter Pauper Press are wonderful to have on hand when the summertime "I'm bored's" come to your house.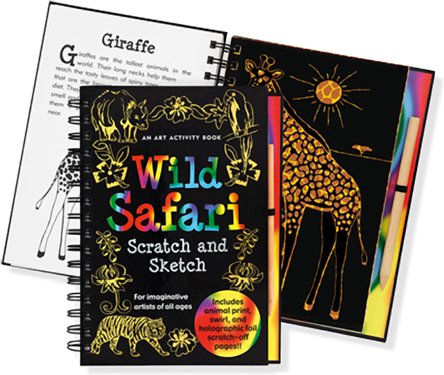 They are also a great gift idea (I personally love it when my children receive disposable activities), and there are Scratch & Sketch books for any sort of interest: from fine art, to princesses, to dinosaurs, to superheros. The way that the pages are structured make it equally attractive to my five-year-old and my ten-year-old.
A word of warning: it is messy. Some of you who value cleanliness over quiet entertainment might not get this set anywhere near your car, and that's okay. I myself put a high emphasis on self-entertainment when we are in the car. If you don't mind black shavings in your car, or if you want to have a newspaper underneath, they are a nice self-contained car activity set. This would not be an everyday car toy, but it will definitely be coming along in my little bag of tricks this summer (Did I mention that we are taking a long, long car trip?).

We have a Scratch and Sketch book of your choice for one winner (U.S. or Canada). Check out all the different subjects offered over at Peter Pauper Press, and leave a comment saying which book interests you most.
Find out what other books and activities are up for grabs at the Summer Fun Giveaway main page. We will announce all the winners on June 11.