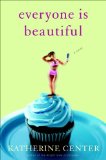 Yay, you're here! Have you read it, have you read it? Is my enthusiasm more than a little apparent? Welcome to our Bookclub featuring Katherine Center's Everyone is Beautiful, where we hope you link up with your own reactions, impressions and connections with this novel that has quickly become one of my favorites.
Did you want to address any of the discussion questions we proposed? I've stated, only a gazillion times already, how much I identified with the protagonist Lanie. Beyond the three young children and the not-so-positive self-image of my post-pregnancy body, I felt a kinship with her from the opening lines of the novel. I found myself poking my husband during my marathon reading sessions and insisting that he listen to passage after passage that I felt had come straight from my own thoughts.
I took away from this novel a new found appreciation for the minutiae of our daily lives as moms. Yes, I live it, but it was a whole different experience to watch it get played out on the pages. Lanie was as human and as susceptible to mistakes and shortsightedness as the rest of us. Yet, she found the strength to address the areas of her life that needed a little reworking. I admired her fortitude, and I envied her strength. The biggest question that I'm left with, as I remind myself that this was indeed a work of fiction, is how much of Katherine Center is in Lanie Coates!
So, how about you? Do you have any questions you'd like Katherine Center to answer? What did you take away from Everyone is Beautiful?
We are hoping to have Katherine answer those questions in our podcast. And one of you who either answers one of the discussion questions in the comments OR links up on our Mr. Linky* leaves a link to a post in the comments will win the opportunity to participate in a conference call with the author, Jennifer, and Dawn that we are going to record on Wednesday afternoon (we will make it available as a podcast). So, leave a comment by Tuesday night at 7:00pm Eastern in order to be eligible for that.
Please link up with us here, and join us for a tweet-up on Thursday, June 4 at 10 pm Eastern time, with the hashtag #EiB (we changed it, so please use this one). @KatherineCenter will be joining in with us here @5M4B for a great chat. One of you who participates in the the tweet-up that night will win autographed copies of Katherine's first two novels. Not a member of Twitter? Join up! If you need help, email us at 5minutesforbooksATgmail(DOT)com and we'll try to clarify how to follow along on a "tweet-up."
And in our efforts to try to kick off our first contemporary bookclub with a bang, one of you who leaves a comment (answering a discussion question), or leaves their post link in the comments, will be eligible to win a personalized canvas painted by the author Katherine Center with a favorite phrase from the book (one of yours or one of hers). We will draw a winner at the end of the week, so jump in by Friday if you'd like to be eligible to win.

*ARGH! I thought that the Mr. Linky issue was fixed, but although it was here earlier, it's gone now. So I'm making an executive decision and pulling the linky. In fact, because we will have non-bloggers participating within the comments, I think it's good to look through them anyway.

Related Posts:

Everyone is Beautiful Intro and Review (featured on 5 Minutes for Mom)
Reasons to Join the EiB Bookclub
EiB Discussion Questions
Podcast and Tweetup with Author Katherine Center
Subscribe to our feed. Follow us @5M4B on Twitter.
Dawn has recommended this book to approximately 712 people in the last few months! When she's not pestering people to read her favorite books, she's blogging away at my thoughts exactly.