Dawn and I, along with readers Kipi and Jean, had a very interesting chat with Katherine Center about her book Everyone is Beautiful.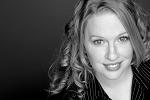 Katherine said that she's done a lot of bookclubs, and you know how most of the time people end up sitting around eating chocolate cake instead of actually discussing the book? Well, she forgot that she was dealing with true booklovers here, and not just a bunch of women who were looking for an excuse to get out of the house and eat snacks that they didn't have to share.
We tackled the issues of motherhood, the experience of the woman through the decades, marriage, and got lots of insider information about the process of writing.
It's about 50 minutes long, and I hope you'll listen. If you asked a question as you linked up to the main post for the Everyone is Beautiful bookclub, it was answered — either directly or indirectly.
[display_podcast]

Tweet-Up Thursday June 4 from 10 – 11pm Eastern
And now — part two of the fun interaction for this book. On Thursday June 4, we'll be meeting up on Twitter from 10 – 11pm (Eastern). We'll use the hashtag #EiB, so you can search for that and lurk, but I do hope you'll at least say "hi." I am NOT one to give twitter advice, and I'm sure that most of you manage your account quite effectively, but if you've never done a tweet-up, I enjoyed using the tweetchat application. It automatically marks your tweets with the right hashtag and follows the others as well, even if you don't follow that person.
We will select a winner from among those who join us for the tweet-up! One person will win an autographed copies of her first two novels: The Bright Side of Disaster and Everyone is Beautiful.
Here's what I'd love to chat about:
Funny scenes — almost everyone mentioned the humor, so be ready to share a scene that made you LOL.
Favorite lines — one of our prizes for those who link up their thoughts about the book (there's still time — drawing Friday) is a personalized canvas from Katherine Center, so if you can think of some great lines, that might be one that she uses.
If you liked this, you'll like that. I think that this is a fun way to extend the circle. Tell people some books that this reminded you of. If they loved that book, but haven't read Everyone is Beautiful yet, that might convince them. On the flip side, it will give those of us who did enjoy the book some others to explore.
I will take notes on the tweet-up and post them here for reference, so if you aren't able to participate, check back here on Friday. Edited on Friday: Okay, I'm going to just say you had to be there. It was a lot of fun laughing over scenes and sharing common experiences. You can search the hashtag #EiB and check out some of our fun. @booksandmovies won the two signed books and the winner from the bookclub discussion is #9 foodieplus4.
Want even more? Follow Katherine on twitter @katherinecenter, read her blog, and check out her author website.