In keeping with our Summertime Fun Giveaway, we have a couple of fun new things to share with you and, of course, to giveaway!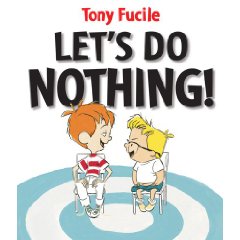 I recently received a copy of Let's Do Nothing!
(published by Candlewick Press) by Tony Fucile. The name didn't ring any bells for me at first, but Fucile's other works are certainly familiar. Fucile has worked on several animation projects such as The Incredibles
and Finding Nemo
. He is an incredibly talented artist and now presents us with his new book, Let's Do Nothing!
This is the story of two boys, Frankie and Sal, who really don't know what to do with themselves. They've already played every sport ever invented, baked cookies and played every board game that they could find. Finally, they decide to do nothing. They discover that doing nothing is actually harder than doing something. The end result is, of course, that they decide to take their wild imaginations and DO SOMETHING! This is a really cute book and perfect for a summertime read (once the kids have decided that there's nothing else to do and are bored). I thought this book was pretty clever and the illustrations are well-done and curious.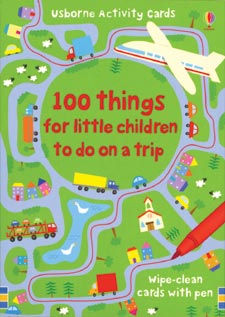 Secondly, you've heard me talk about Usborne books before and you'll hear me talk about them again. (I really do love them.) Their books are wonderful and my son has enjoyed every exposure to them. I was delighted to discover that they offer things other than books, namely, 100 things for little children to do on a trip. Going on a trip? You'll want these cards. There are 50 "wipe-clean cards" (with dry erase pen included) inside the box. Each card is two-sided and they offer a variety of activities, from mazes and dot-to-dot to creative drawing projects. Each card is bright and cheerful looking and covered with things that spark children's imaginations and creativity: snakes, dragons, pirates, airplanes, robots and sea life explorations. The cards are sturdy and well-made – certainly deserving of the Usborne label. The cards are 6 inches long and less than 4 inches wide (and their storage box is just slightly bigger than that) making these cards easy to pack and carry with you wherever you go. They take up very little space while offering plenty of activities and ideas for things to do with children in contained spaces. Whether you are flying or driving somewhere this summer, or even if you just want to have these cards on hand for doctor visits or for during church when you are trying to keep wiggly children quiet in the pews, these cards are awesome! Easy to pack, easy to carry, easy to clean and easy to love. I HIGHLY recommend them!
Carrie comes by her book obsession honestly, having descended from a long line of bibliophiles. She blogs about books regularly at Reading to Know.

Because both Candlewick and Usborne are such amazingly cool and generous companies, they have each agreed to give away one of the above items to a 5 Minutes for Books reader. In order to win a copy of Let's Do Nothing!
and a package of 100 things for little children to do on a trip Activity Cards, all you need to do is leave a comment below. U.S. residents only.
Click on the banner above to enter our other Summer Fun Giveaways. All winners will be announced on June 11.