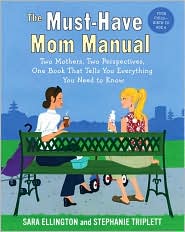 The Must-Have Mom Manual
is written by two really different women. One is a stay-at-home mom and the other maintains a career outside of the home. In this book they offer their varying perspectives on motherhood – from breastfeeding to birthday parties, they've done their best to hit on a wide variety of topics that mothers today care about.
This Manual
is laid out in such a way as to make it useful to the individual reader. You do not have to sit down and read this book through in one fell swoop. Rather, the book is divided into topics so that you can flip to the section of current interest and glean information that you are looking for. For example – say that you wanted to get a few different perspectives on Kids and Sports. Flip to that section and you'll be able to read their discussion about what age is a good age to introduce children to group activities. They offer encouragement as to how group sports and competition should be approached and then Stephanie offers some advice from her own experience. At the end of the section there is a list of websites given with additional information for you, the mom, to look up so that you can make the best decision possible for you and your children.
This book is one that is meant to sit on the shelf for awhile. It's meant to be pulled down with some regularity, for when you are planning a trip to Disneyland and need some good advice and travel tips, to educational options. It is a pretty thorough resource.
My one complaint is, despite the fact that they say this is a book about different perspectives, full of information so that you can view all the evidence and make your own decisions, I found authors Sara & Stephanie to be rather one-sided on a few key issues, such as discipline and vaccinations. These are hot button topics so I was really curious to see how they would handle them and the words and phrases they used in these two sections lead you to believe they have formed a conclusion and they feel quite strongly about those conclusions. In other words, they didn't leave much wiggle room for you to disagree or want to really research opposing options. But in all other more "low stress" issues I thought they handled their subject matter well, giving the reader something to think about while allowing freedom of choice.
This book would go up on the shelf with the What to Expect books. The only difference is that this book isn't meant to freak you out and prepare you for every horrific possibility that will cause young mothers everywhere to wet their pants in fear. This book is meant to be encouraging, helpful and practical. It's worth a look at, I think.
Carrie comes by her book obsession honestly, having descended from a long line of bibliophiles. She blogs about books regularly at Reading to Know.