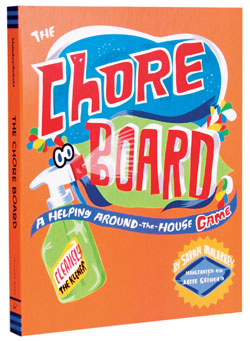 When I showed The Chore Board: A Helping-Around-the-House Game to my 10 1/2 year old daughter Amanda, she immediately began unpacking the pieces and looking at the instructions.
"What are some chores I can do, Mom?" she asked. I reminded her about the chores that are on her regular list: cleaning her bathroom each week, unloading the dishwasher as needed, keeping her room straight.
She didn't look excited, but reluctantly added them to white board list that was part of the game board. "Are there others I can do?" I added on some things that I'm always asking her to do, such as put her clothes away (instead of leaving them on the chair in her room where I pile them) and take out the garbage.
"What about Kyle?" she asked, moving on to the next section of the board. I reminded her that he feeds the dog, does the silverware from the dishwasher, sets the table, and makes his bed.
The game is magnetic, and it has stayed put on the front of our fridge for several weeks now.
Why does this work? Well, the game suggests that a mutually agreed upon incentive is offered when the child reaches the end after moving one square per chore (There are also fun squares throughout the track, such as "Do two chores in an hour and move forward two squares," and "Trivia Question.").
It's taken the nagging out of helping around the house, because the kids can see their reward approaching. It's also brought out some competition. If Amanda sees Kyle's piece moving forward quickly, she wants to be sure that she has the opportunity to do some chores as well. I am always ready with a suggestion or two to help her out.
Summer is a great time to start new habits. See if The Chore Board Game might cause your children to be a little more willing to help out around the house.
Jennifer Donovan blogs at Snapshot about life in Connecticut with her family. They all would much rather be reading a book than doing chores.

Chronicle Books has donated two games. If you'd like to win one, please leave a comment here (U.S. and Canadian shipping addresses are eligible).
Click on the banner above to enter our other Summer Fun Giveaways. All winners will be announced on June 11.