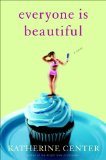 If you're a 5M4B regular, you are fully aware of the gushing we've been doing about Katherine Center's newest novel, Everyone is Beautiful. Back in March, I wrote a review that read like a crazed fan with a crush on the author, and since that time, I've recommended the book to approximately 712 people, including a mom that I had just met on the playground. Jennifer and I have exchanged emails during this time that could be summarized down to this one statement: "I LOVED this book!"
If you weren't convinced by Jennifer's list of reasons why you should be joining us for this Bookclub next week, this is the last time that we're going to badger encourage you to take part!
Remember that we said that there would be prizes? And opportunities for non-bloggers to participate as well?
We will select one person who links up on Tuesday June 2 to join in our podcast with the author that will take place later that week, if you'd like. By "link up" I mean write a post on your blog and link it, OR leave the answer to one of the questions in the comments section.
We will be having a "tweet-up" on twitter using the hashtag #beautiful. Details to come, but it will probably be Thursday June 4 in the evening. One of the prizes will be given out to those who participate in the tweet-up.
Other prizes will be given out throughout the week by participating in other ways — sharing a response, a favorite quote, or something like that. Again — bloggers and non-bloggers are welcome to join in.
The prizes will include a custom canvas made by the author Katherine Center, and signed copies of both of her books.
As a mom to three young children, there were countless parts of this book that convinced me that Katherine Center had been stalking my innermost thoughts during her writing process. How about you? If you've read Everyone is Beautiful, please link up with us on Tuesday, June 2, for our first contemporary selection for our Bookclub community feature. As always, here are some questions to address in your post, or feel free to strike out on your own and write whatever comes naturally to you!
How did you relate to Lanie's character? Beyond just the mom/young children connections, did you feel any type of kinship with her?
What did you think about Lanie's pursuit of a new definition of herself, with her workout routine and photography interest? Is there something you'd love to pursue in your own life?
The realistic nature of this book astounded me– it just seemed to be such a true-to-life portrayal of motherhood and marriage when the children are so young. What parts stood out to you as leaping off the page with reality?
If you could ask the author Katherine Center one question about Everyone is Beautiful, what would it be?*
How would you describe the message a reader takes away from Everyone is Beautiful?
*We are hoping to be able to actually ask the author these questions, either via email or on our podcast.
Have I convinced you yet? Seriously, even if you haven't bought it yet (or gotten your copy from the library on hold), you can pick it up now and finish before Tuesday. It's a quick, easy (yet totally fulfilling) read.
Dawn loves to share book recommendations and wacky kid stories on her blog, my thoughts exactly.