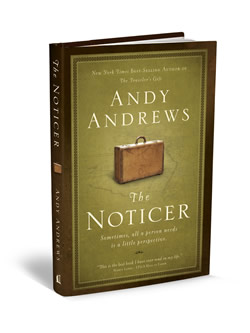 On the front cover of The Noticer
there is a quote from Nancy Lopez (LPGA Hall of Fame), who had apparently pre-read the book and who stated, "This is the best book I have ever read in my life." I hate it when they put quotes like that on the front of the books. It isn't a selling point for me. If anything, it sets the book up for almost instant failure in my eyes, because can I really expect that it's going to really be the very best book I've ever ever read in my entire life?! Quotes like that practically doom the book from the get-go as far as I'm concerned.
However.
Although I did not think that this was the very best book that I have ever read in my entire life, it was pretty good. Author Andy Andrews, author of The Traveler's Gift
is a New York Times best selling author and although I have not read The Traveler's Gift
it is easy to see why. He certainly has a compelling way of telling his story, blending fiction with his own personal fact-based past. It's a curious mix of story-telling that left me wondering how much of what I was reading was true and how much was made up.
In The Noticer
, we meet an older gentleman who goes by the name of Jones. He frequents a little area of Alabama from time to time. No one knows where he lives and no one knows where he is when he's not in Orange Beach. Jones seems to "make a living" noticing the down and outs in Orange Beach society – from the couple whose marriage is falling apart, to the young man living underneath the bridge. Jones meets these people where they are at and offers them what they need most – perspective. It's all about perspective.
Reading this book is like attending a counseling session for a number of different ailments. The characters are heartwarming and believable. You genuinely care about what happens to each individual in each situation. You will grow attached to the character of Jones as he is, I suppose, the character that we all aspire to become. In short, I think you will like an enjoy this book very much. Will it be the best book you've ever read? Well, I'm not going to claim that but I will claim that this is an interesting read, and a modern moral tale. I enjoyed it.
Carrie comes by her book obsession honestly, having descended from a long line of bibliophiles. She blogs about books regularly at Reading to Know.