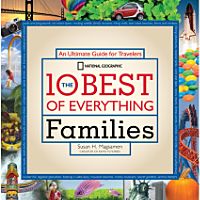 Wow. The book I'm holding in my hot little hands is a gem for those of you who love to travel or think about traveling or research future trips. Seriously, it's cool.
Whether you are looking for adventures in your own backyard, or planning future vacations, or looking for interesting detours on a road trip, The 10 Best of Everything Families is for you.
It's published by National Geographic, so the pictures are gorgeous, and the organizational structure is perfect. The items (below) are listed regionally or topically, but everything is cross-indexed in the back by state, making it perfect to even use on the fly if you are on a driving trip anywhere in the U.S.
There are "everyday travel" bests such as
ice cream
regional specialties
parks
Getaway bests include
reunion spots
fishing trips
museums
state parks
roller coasters
author's homes
zoos
But that's not all — the book is also jammed with general info on traveling, including a whole chapter on ways to document and remember your trip, and a resource section with information about trip-planning and packing.
If you like reading travel books, like me, this one is great. If you are looking for some great suggestions for side trips all over the U.S., this will serve you well. If you just want to dream, it will help you do that too.

Managing Editor Jennifer Donovan is thankful for grandparents who showed her most of the U.S. in multi-week trips in their Silver Streak trailer, and a husband who loves to travel, too. She also blogs at Snapshot.

We have one copy of this book to give away (U.S. or Canadian residents) as part of our Summer Fun Giveaway. Leave a comment on this post if you'd like to be eligible to win this book.
Click on the banner above to enter our other Summer Fun Giveaways. All winners will be announced on June 11.