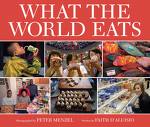 What the World Eats
is a fascinating look at what people from around the world in different cultures and traditions, well, eat! Author Faith D'Alusisio and photographer Peter Menzel traveled around the world eating with various people and asking a lot of questions. From their interviews and travels they put together this book which takes a look at everything from kitchens to annual meat consumption in countries like Mali (yeah – betcha have to look that one up!), Great Britain, Greenland and Mongolia. They even took note of how many McDonald restaurants exist around the world! Guess which country is leading the charge in this fast food phenominon? (Don't strain your brain.) The United States clocks in with 13,491 McDonald restaurants, compared to Ecuador's boast of 10 golden arches and China's 600+. You also don't need to think too hard to determine which country is the proud owner of the most obese people!
This book is a fabulous tour of the world's plate which, accompanied with some really amazing photographs, is a great way to show your children what various people eat around the world. You know how your mother always told you to clean off your plate and be grateful for the food because there were starving children in China who would love to eat your brussell sprouts on your behalf? Well, now you can take a really good look at those cultures and see exactly what they might be grateful for and perhaps what they would not care for. Not only is this book a great resource but it's also quite entertaining to see how much the average family spends on food a week — all over the world.

As an earlier introduction to a variety of foods, Ten Speed Press has produced some board books for babies introducing them to various food cultures. There is a First Book of Sushi
, a first look at Chaat and Sweets
and even Nosh
! These books identify the food in a very simplistic way that make things fun books to give to friends who are traveling, adopting from a different culture or who are just learning about the world around them. Excellent books and a hat's off to Ten Speed Press for producing quality resource books in this fashion.
Carrie comes by her book obsession honestly, having descended from a long line of bibliophiles. She blogs about books regularly at Reading to Know.