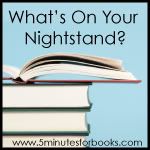 Yes, here we are again at the fourth Tuesday of the month, the time for our most popular community event. It's great to see all of you sharing what you are reading, soliciting feedback from others, and giving your opinions about what you've read. It's the very definition of community.
So, if you're new here (or if you've forgotten), here's what we do.
Each month, let us know "What's on Your Nightstand" by sharing a quick review of recently completed novels, or a look at what you plan on reading in the month to come. You can show a picture of your nightstand (or your virtual nightstand — a bookshelf, the sofa end-table, a big pile beside your bed — wherever those to-be-reads reside).
Write it up on your own blog, and link directly to the post in the Mr. Linky below. Please link back to this post (or our home page), so that your blog readers can join in if they'd like. If you don't have a blog, leave a quick comment letting us know something you are reading this month, or something you just finished.
If you want to see what other bookworms are into, click through some of the links and read their lists.
Check out our Summer Fun Giveaway, with new giveaways daily. It runs May 25 – June 10.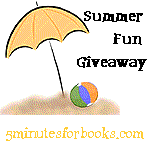 Other community events coming up (if you have any questions about these events, see the info at our Join In page, or leave a comment here or send us an e-mail):

June 2: Everyone is Beautiful bookclub
June 9 — Children's Classics — Poetry
June 16 — Kids' Picks (like Nightstand, but recommendations from children)
August 4 — Classics Bookclub — Rebecca by Daphne Du Maurier
(As always, there is supposed to be a Mr. Linky here. If there isn't, it means he's acting up, and will likely return sometime. If you add your link in the comments, people can read through them, and I am trying to add them into the linky as I see it come up. I'll bet it will be better a little later today).