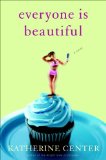 The box containing this book arrived in the middle of the morning, and my two youngest were excited to paw all over its contents. All I wanted was to get reading. But, life is life, and a mommy's job doesn't come with many scheduled breaks. Over the next 24 hours, though, I tried to sneak in as many as I could to read this fantastic novel.
By the time I reached the end of Katherine Center's Everyone is Beautiful, my kitchen sink had transformed itself into a mountain of breakfast and lunch dishes, and miraculously, the laundry did not fold itself. But, I had the incredible delight of sharing my time with a fictional character who had nothing fictional about her. From the baggy clothes that hide the squishy tummy to the three kids constantly attached to her hip, I was with this character from page one. This novel is quite easily one of the most accurate portrayals of motherhood and marriage that I've ever read.
Intrigued? Check out the following video for a taste of some excerpts, and then head over to 5 Minutes for Mom to read my complete review and enter to win one of three signed copies!
Check out all the additional posts from our Everyone is Beautiful Bookclub.
No doubt about it, this novel makes the list of 5 Star Reads.
Dawn wishes she had a walk-in kitchen pantry where she could hide from her children to read and eat Girl Scout cookies. She and her blog, my thoughts exactly, are currently up for exactly zero parenting awards.