Does anyone else remember the Choose Your Own Adventure Stories? I was SO DELIGHTED to see them in a local bookstore as I have fond memories of reading these books voraciously when I was younger. I remember that I would always try to pick the option that would lead to the longest story. I remember sharing the books with my best friend. We would pour over these books for hours, trying to see how many story conclusions could be drawn per book.
If you have somehow lived your life hidden under a rock and are not familiar with the Choose Your Own Adventure stories well, just sit down! Let's catch you up. Choose Your Own Adventure stories are stories where you get to do exactly that. You are put "into" the story. You, the main character, get to decide which option you'll take in causing the story to unfold. You and you alone get to hunt for the abominable snowman. You and you alone (say this with a deep and mysterious voice:) will search for the lost jewels of Nabooti. Oh yes, my friends. The adventures are dangerous, sometimes deadly, frequently mysterious and very. very. curious.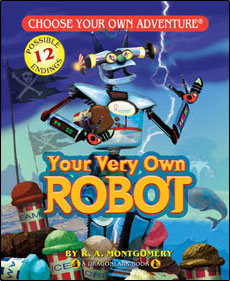 There is a new Choose Your Own Adventure series (that I had never seen before) specifically tailored for kids between the ages of 9-12. The books are about 50 pages long and very between having 9-12 possible endings. For example, in the book Your Very Own Robot
you are given a (surprise!) robot. You must choose what you are going to do with him from whether or not you are going to paint him or not (with varying results) to whether or not you will choose to attack a band of pirates with him (with varying degrees of success depending on which option you choose). You can choose whether or not your robot will have friends and how those friends will be. The illustrations in this look very much like a cartoon you'd see on tv. The characters are therefore easy to identify with because they have a familiar look about them. It is simply a matter of what you will choose to have those characters do.
Then, of course, there are the traditional classic stories which are being reprinted. You can get the first four in the series in a boxed set
for convenience sake and it contains the following titles: The Abominable Snowman, Journey Under the Sea, Space and Beyond, and The Lost Jewels of the Nabooti. They also have a relatively new series under the Choose Your Own Adventure umbrella. The first book in the series is called The Golden Path: Into the Hollow Earth
which is a series that is a little more up-to-date with this modern world. However, all the stories are so fantastical that I don't think the "classic" series is really out-of-date in any way. They are creative, imaginative and I've never seen anything else quite like them.
What about you? Do you have fond memories of this series? Well, then, you'll be glad to note that you can share them with your kids also. Remember: YOU and YOU ALONE decide the adventure so BEWARE!
Carrie comes by her book obsession honestly, having descended from a long line of bibliophiles. She blogs about books regularly at Reading to Know.

Speaking of sharing them with your kids (or grandkids!), the Choose Your Own Adventure Company has graciously agreed to give away a copy of the first four titles in the classic series to one of our readers, signed by author R.A. Montgomery.
In order to win, leave a comment below. U.S. Residents only, please. Good luck and may your adventures be safe!
Click on the banner above to enter our other Summer Fun Giveaways. All winners will be announced on June 11.