Ray Quinn is a cop who's lost it all…his health, his job, and the woman he loves. Nearly a year after the ambush that wounded him and killed his partner, Ray finds himself reduced to being a night watchman at a condo unit in Orlando. His nights are spent with an overeager co-worker and sudoku puzzles. His days are filled with John Wayne and Jim Beam.
When he discovers two dead bodies in one of his condos, Ray's bitterness and self-pity stifle his curiosity. It didn't happen on his watch, and he's got better things to do than worry about an apparent murder-suicide involving a pastor and a prostitute. Then the pastor's sister seeks Ray's help. He reluctantly gives in, unaware that the search for a killer will shake the Orlando Police Department and the truth he thought he knew.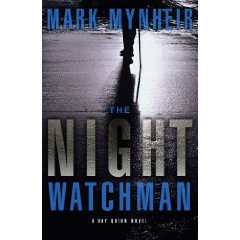 In The Night Watchman (Ray Quinn Series, Book 1), author Mark Mynheir introduces us to the gruff and wry Ray Quinn. Before his shooting, Ray had been a well-respected (though not well-liked) homicide detective. His break-the-rules, solve-the-crime attitude won him few friends, but got the job done. He's tenacious and clever, and oddly likeable.
While the crimes aren't original, Mynheir offers us an authentic protagonist in Ray Quinn. Justice is served, but at a price. Through it all, Ray resists God and tries to come to grips with his new reality. There is no great awakening or tidy ending, leaving room for the next book in the series.
For those who enjoy crime fiction, The Night Watchman is a welcome and clean read.
Melissa has been captivated by books for as long as she can remember. She resides in Virginia and blogs at Breath of Life