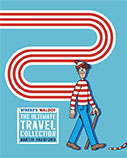 Raise your hand if you like Waldo! I remember liking him when I was little. I only remember looking for him a couple of times and I have a vague recollection that my searching was done in a newspaper. Was there a weekly or monthly cartoon in some newspapers way back when (you know – like way back to the 80's?!) Well, well, I like Waldo and I wondered what my son would do with him. My two year old will stare at picture puzzles for awhile. He LOVES the I Spy books and so I thought we'd give Waldo a whirl. Insta-success. He pours over the pages looking for waldo. I mentioned before that he got really excited when he found Waldo before mommy did. Oh, the day! Fabulous, fabulous.
I was stoked (yes, I did just use that word) to discover that Candlewick Press is home to Waldo. I was happy about that because I love Candlewick Press and a marriage of one of my favorite children's book publishers to one of my favorite puzzle characters seemed like a match made in heaven. Better yet, they've combined "Five Fantastic Adventures" into one easy travel book of a decent size in Where's Waldo? The Ultimate Travel Collection.
Your eyes will not be strained and your fingers will not grow weary as you find Waldo in this combined book featuring Waldo puzzles from Where's Waldo?, Where's Waldo Now?, Where's Waldo? The Fantastic Journey, Where's Waldo? In Hollywood, and Where's Waldo? The Wonder Book. At the beginning and end of each adventure there are also fold-out pages that include a check list of additional things that you can be looking for within the pages. HOURS of fun. For anyone who has ever loved Waldo, this is the book to pick up.
I got it just in time for our long plane trip to Texas. Instead of the "Are We There Yet?" question, I'd much rather be asked, "Where's Waldo?" Wish us luck! And go find this book!
Carrie comes by her book obsession honestly, having descended from a long line of bibliophiles. She blogs about books regularly at Reading to Know.

We have one copy of Where's Waldo? The Ultimate Travel Collection to offer to one U.S. resident as part of our Summer Fun Giveaway.
Just leave a comment on this post to win. We will announce all the winners on June 11.