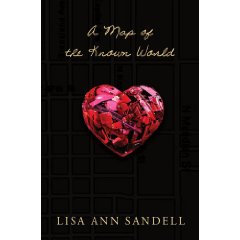 I have a bit of a bias towards (or against) some YA fiction. As a mom, I grapple with some of the "reality" that is presented — very strong language, explicit sexuality, and illegal behaviors such as drinking and drugs. In my head I know it's the reality of what many teens face (and I also know that I myself read explicit stuff when I was a teen), but in my heart I want children to be protected. Because the Young Adult range is so wide, I know that 13- and 14-year-olds end up reading books in this genre that might be more appropriate for 16 and up just because of the way that they are classified.
So with that disclaimer out of the way, A Map Of The Known World by Lisa Ann Sandell is a lovely book. It's clean (without so much as one four-letter word), and yet so relevant.
Fourteen-year-old Cora is entering the high school that her brother Nate would have been attending as a senior, except for the fact that he was killed in a reckless driving accident the year before. Understandably, things have changed, but with the help of new friends (including Nate's previous best friend), and the discovery of her artistic talent, she survives her freshman year and the hard process of healing that her entire family must endure.
One reason I enjoy reading middle grade and YA fiction is to get into the heads of today's kids (so I can better understand my own daughter), but the other reason is because I WAS a kid, and well-characterized fiction takes me right back there. I completely related to Cora's uncertainty about where she was going to fit in in high school, the changing face of her family, and the feelings of joy and uncertainty surrounding her first boyfriend.
A Map Of The Known World lives up to its title (isn't it just a lovely lyrical title?). It's a good read for young people, 12 and up, as well as adults who enjoy the genre. The story is real and believable, the characters are well-drawn and avoid overly obvious stereotypes, and the writing is beautiful.
Managing Editor Jennifer Donovan also blogs at Snapshot where she invites you to join her Read Together challenge (and experience some great children's literature such as this for yourself!).