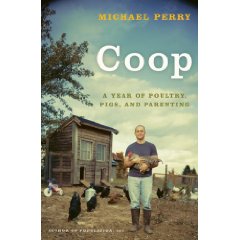 I cannot say enough nice things about Coop
: A Year of Poultry, Pigs, and Parenting. I suppose I could try, but this review would be really long and mostly redundant as I'd just be saying how great the book is over and over again. This book falls into my "top favorites" category. Honestly, I never thought a memoir would fall into favorites with me, but this one did. I. loved. it. ('Nough said? Hmm. I'll keep trying.)
Michael Perry takes us on a home journey. This is memoir of a man who loves his family, loves the land he lives on, loves to write and does a fantastic job doing so. His vocabulary is outstanding. His respect for his wife is second to none. The way he loves his children, even on the most frustrating days, if as true as he represents, makes him a man worthy of admiration.
Perry takes the reader on his journey to moving back onto his family's property. We travel alongside him as he purchases chickens and makes fun of them, buys pigs he learns to feed and has a baby he learns to bounce to sleep. He is witty. He is well-meaning. He is sincere and he is brilliant. Yup, I think his writing style and manner of relating family life is truly brilliant. (You will NOT catch me saying that again anytime soon. This is a sacred moment.)
In fact, I think this book is so brilliant and admirable that I'm not even sure why you are still sitting here reading this review (which is anything but brilliant). Nothing I could possibly say would do this book justice. Close this site window, click over to Amazon and add to cart
. It's as easy as that.
Men who love their families and work hard to provide for them both physically, mentally and spiritually are worthy of a great deal of respect and attention, in my opinion. The world needs men like Matthew Perry who are willing to take responsibility for their actions and behavior. From what Perry represents of himself and his family, he does all of the above with grace above the pig manure. Yes, he is a farm boy. His hands get dirty. But his heart remains strongly attached to his bride and what pours out of the book is intelligent love. I gotta like this.
Carrie comes by her book obsession honestly, having descended from a long line of bibliophiles. She blogs about books regularly at Reading to Know.