Oh, the places I've read aloud. On my living room couch, snuggled with one, two or three children, depending on the year. Seated in the slightly elevated 'teacher chair' with eighteen sets of 4-year-old eyes upon me, wiggly bodies temporarily subdued with interest. Huddled together with my oldest son, then only 3 (and an only child!), on a shuttle bus taking us to our school, giggling over the antics of a certain bus-loving Pigeon. Sitting cross-legged on a picnic blanket with another class of preschool eyes, this time joined by the eyes and ears of their accompanying parents. From the ordinary, day-in and day-out reading to the special preschool events, reading aloud has been an important and dear part of my life for many years now.
Back when I was teaching, I planned my after-lunch stories with precision, trying to match stories by themes or authors, and taking great care to get acquainted with every picture book that I brought into the classroom. I regularly maxed out my 75-book limit with the public library and immersed myself in children's literature with my class on a daily basis. (As a parent, I now find myself discovering new books right along with my children, as I've become somewhat lax in my prep work before we read aloud together.) I have always found immense value in reading aloud with children, and even now, my almost-9 year old son and I still take time to read middle-grade novels together, sometimes taking turns with the actual reading out loud duties. The topic of reading aloud even among adults was also tackled in a recent NY Times article. As a teacher, I shared my joy for reading aloud with other early childhood educators at local and national workshops, always stressing the fun you can have as the reader. Knowing when to change the volume or tone of your voice can work to keep those wiggles at a minimum. Pulling out all the dramatic stops during a story can keep that preschool audience enraptured at every turn. Being familiar with what makes a quality children's picture book makes searching through the gigantic library stacks just a bit easier.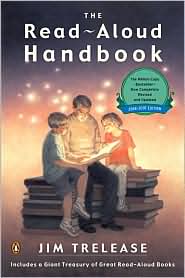 In conversation, I can go on and on (and on and on) about reading aloud, especially to preschoolers as I did on a daily basis for a decade. Since the managing editor Jennifer prefers that I try to keep my loquaciousness to a minimum (Hi Jennifer! Just kidding!), let me suffice it to say that reading aloud is a worthy topic to consider, since I'm figuring that many of you reading these words have little ones around you on a regular basis clamoring for "just one more book!" If you want to peruse this train of thought a little longer, may I suggest you immediately run out to your local library or bookstore and pick up what has often been referred to as "the Bible of reading-aloud guides," The Read-Aloud Handbook by the amazing Jim Trelease. This guy is the expert and his suggestions, tidbits of info and wonderful inspiration will have you begging your children to stay awake for "just one more book, pleeeeaaaase!"
Dawn misses story time the most from her teaching days. (That and lunch.) Now she blogs about her stay-at-home adventures at my thoughts exactly.