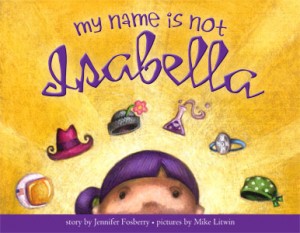 Almost every afternoon, my daughter dresses up like a princess. When I call her name, she often responds, "Mom, I am Cinderella (or Ariel, or Sleeping Beauty, etc…). Isabella's mom has the same problem at her house. However, Isabella has much higher aspirations!
In My Name is Not Isabella
, Isabella spends the day pretending to be great women from the past. The author does an excellent job of integrating the roles of these women into Isabella's every day life, and the illustrations are delightfully engaging.
The story alone is wonderful, but the book also opens the door for learning and fun. The back of the book includes short biographical information for each of the famous women as well as resources that will enable you to find out more. My Name is Not Isabella
sends the message that girls can change the world, and I especially appreciate that the book includes Isabella wanting to be a Mommy. What an important, world-changing role that is!
My Name is Not Isabella
is one of the best new children's books that I have seen in a while. I highly recommend it to any of you who know a special little girl. I plan to enjoy this book with my little princess for years to come!
Lauren is a wife, a mother of two, and an avid reader. She dreamed of being Jane Pauley, but she is so happy to be the mommy of two children who are now dreaming of their own futures . Lauren blogs at Baseballs and Bows.