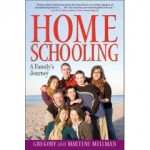 Well, here's a topic that has the potential to rile the masses. Yet, it doesn't have to. But it does. This book is titled well — it is a family's journey into the wild world of home schooling. It is not every home school family's journey; just one family. Every family you meet, home, public or private school is on their own unique journey. Sometimes it's hard to see that. Instead we choose to see what aspects of our lives make us different from one another and take offense by things we aren't familiar or aware of. I'm just as guilty as the next person when it comes to casting judgment on someone because of a particular situation they have voluntarily placed themselves in.
You see, I was raised home schooled. From third grade right through high school graduation, my mom was my primary teacher. The idea of home schooling is certainly not foreign to me and made me very curious to read the story of the Millman family. Their family's experience was very different from mine. Where my mom preferred structure, they do not. Our family didn't travel much; theirs did. Still, our goal was the same: a well-educated child and productive member of society. I'm not sure which of those titles I'd claim, if either, but that certain is a goal of home schooling. I do not believe any parent would be an exception in wanting the same for their children. Everyone has their method for going about the process of making sure their children receiving "proper" schooling.
For the record, I am a strong proponent of home schooling. (You should have expected that considering my last paragraph.) Let it also be known that I do not believe everyone should home school. Everyone probably knows someone that they think is doing a poor job of it. On the flip side, there are public school children that I don't think should be in public school but would benefit from having more personalized instruction. You see, it works both ways. I'm not writing this review to cause argument, but rather to present this new book about home schooling in light of my past and spread a little encouragement that it would behoove us all to strive for understanding instead of passing judgment.
Gregory and Martine Millman make no bones about the fact that they find home schooling to be the superior arrangement. They are confident, enthusiastic and well-researched. This makes for a great testimony for the home schooling movement. The Millman family is comprised of two adults and six children – three of which are in top colleges. They have done very well in their endeavor and I find them very qualified to speak on the topic. I do agree with them in stating that an education is best gained through personal relationship. When a teacher (in whatever capacity or system) is able to give attention to any student to help direct their studies and/or desire to learn, the chances of the child excelling are increased. That's a fact that is fairly universally acknowledged. Children who go to a "regular" school have increased chance of success when their parents are involved in the process as well. Why? Personal relationship.
Certainly if you are interested in the idea of home schooling, this family's journey is very inspiring and motivational. They are not traditionalist by any stretch of the imagination (whereas I am more so) and have a definite desire to encourage others in this pursuit. I read this book more for curiosity sake than anything else. I'm always interested to hear about what methods and means other home schooled families used (or didn't use) in teaching their children. Not only was I home schooled, but so was my husband. So we're fairly confident that we'll be able to manage the same with our own children and we're excited to be able to do that. It's good to know of the various resources out there, this book being one of them. My one caution is that this should not be the only resource because it is one family and one set of opinions. There are a vast number, as you can imagine. Not everyone who home schools has the dad with the job which promotes travel and exploration in the same way. Not every mom likes living without curriculum. It's just different. Not bad – just different.
On the whole, Homeschooling: A Family's Journey is a great book for conversation about home schooling. It shouldn't discourage you if you are incapable of doing exactly what they did. Rather, draw from their encouraging words and ability to see life as an opportunity to learn. Education doesn't just occur when the text books are open. Possibilities exist everywhere and at all times. The question is whether or not we choose to take advantage of the situations we're given – whether at home, work, school, on the playground, at a museum, or the local pizza parlor. Life is an adventure meant to be lived and explored. That's the main point of the Millman's message. I don't know who wouldn't benefit from hearing that!
Carrie comes by her book obsession honestly, having descended from a long line of bibliophiles. She blogs about books regularly at Reading to Know.