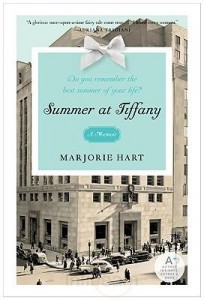 As I mentioned, I received a copy of Summer at Tiffany
in our bags that we were given at the Book Blogger Conference in New York. The cover art captured my attention right away and when I flipped the book over to read the back cover, I was sold!
Set in New York City in summer of 1945, author Marjorie Hart (nee Jacobson) tells the story of a summer she has never quite forgotten. She and her friend Marty Garrett arrive in the big city, fresh from Iowa. Their dream is to acquire summer jobs working in a fashion boutique in the city. They are out for adventure and to discover new things of themselves when they land a job working at Tiffany, the infamous jewelry store.
This memoir is clean, good fun! I read it on my airplane ride home and was taken with the descriptions of life in World War II (my favorite time period in history) and of New York City itself. Having just left there, I could hear the city sounds in Hart's writing. I loved that she included her's and Marty's budget which really help date the book – back when you could buy lunch for $0.15 and it costs only a nickel to ride the subway!
I enjoyed hearing about Marjorie and Marty's job at Tiffany. The two girls were hired to be the first female pages that Tiffany had ever employed. Their job was to take jewelry from the salesmen at the counter and carry it to repair. They observed customers such as Judy Garland and Marlene Dietrich walk through their doors and her descriptions of these famous actresses brought a grin to my face and made me want to indulge in some Garland tunes. Everything about this book just took me back to a different time and place and I found it enchanting and refreshing.
Simply put, I cannot NOT recommend Summer at Tiffany
. It is irresistibly 1940's New York – crowds, midshipmen, high heeled shoes and all – and I enjoyed every single page of it!
I'm giving this one a famous Five Star Reads label around here because it deserves it!
Ok, and just for fun (to help take YOU back…) here's a clip from one of my favorite Judy Garland WWII themed-movie
. It also featured a soon-to-be well known actor in his own right. This was his debut film. Recognize the face?
Have fun!
Carrie comes by her book obsession honestly, having descended from a long line of bibliophiles. She blogs about books regularly at Reading to Know.