The days are being counted down in my family until our oldest child will no longer be calling himself a fourth grader, and the call of summer vacation is ringing LOUDLY in his ears. If he were to call the shots for how his time would be spent for the next two and a half months, I'm confident (and hugely proud!) to predict that he would opt to read for a good part of each day, but I also know that television and Wii time would be at the top of his wish list, too. Summer break plans left to children may not always translate into continued learning opportunities, experiences, and retention of the school year's lessons.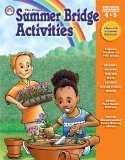 So, this summer, we're going to do some things the same- lots of family reading time, regular trips to the neighborhood pool and playgrounds (as well as just good old playing out in the yard), and taking advantage of area programs at our community center and library. But, we're also adding one more thing to the mix: a Summer Bridge Activities workbook.
I have to admit that in my career as a preschool educator, I've always held on to a healthy dose of skepticism about workbooks. My opinion was, and still is, that very young children learn better through experiences in their world than by circling pictures in a workbook. I didn't have much experience with the concept outside of that age group, and like so many things in my life, I'm learning more and more as my oldest child ages into uncharted territory in my life as a parent. I received a copy of the Bridging Grades 4 to 5 for review purposes, and I have to say that a few features and components immediately stood out to me:
A comprehensive skills matrix at the beginning of the book clearly indicates what areas of learning are addressed by each activity– very helpful to parents who may be wondering how the pages relate to their child's school learning.
A strong emphasis on grammar, language arts, and reading comprehension, which are such huge skills areas that the standardized testing in public schools focus on.
A two page list of recommendations for age-appropriate summer reading. Again, LOVE the emphasis on the importance of reading!
An easy-to-implement system that recommends two pages a day (approximately 15 minutes), and the workbook is formatted in three segments, one for each month of a traditional summer break. Each month has twenty delineated days, along with six bonus pages for the super-motivated students!
More than just ABC's and 123's, this workbook series features activities that address physical and character development, outdoor extension activities, and real world learning through measurement, time, and money activities as well.
I'm happy to report that upon his first browsing through the workbook, my son showed interest in some of the activities, and I think that it will be easy to implement a regular schedule of quiet work each day, allowing him to keep his learning fresh for his arrival as a fifth grader in late August! And, I'm not the only one to offer a positive perspective on this series from Carson-Dellosa, as Jennifer also reviewed the Summer Bridge Activities workbooks last year!
I'm excited to announce that one of you will win a copy of THREE workbooks of your choice (available for Pre-K to K through 7th to 8th grade, and also in a "Summer Bridge Activities for Young Christians" series). Leave a comment if you'd like to win (U.S. addresses only), and we'll announce the winners on June 23.
Check out our current giveaways. Subscribe to our feed. Follow us @5M4B on Twitter.
Dawn will be enjoying her summer "break" accompanied by three wacky children, and will probably blab all about it on her blog, my thoughts exactly.