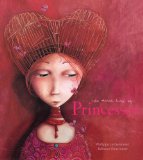 There is an attraction to the concept of princesses that seems to be universal, especially for young girls. The beauty, the fancy dresses and frills, the royal stature- all of it speaks to some children, and there is certainly a bevy of books and toys that address this mass interest. With the release of Sterling Books' new, and highly anticipated, book The Secret Lives of Princesses, the field of royalty has been greatly expanded. And the newly introduced Princesses are like none you've ever seen before.
Written by Philippe Lechermeier and illustrated by Rebecca Dautremer, The Secret Lives of Princesses truly is a tome of fun information about a slew of princesses that don't always fit in the typical mold. You may know all about Sleeping Beauty, but her lesser known relative, Princess Somnia may not yet be on your radar. When you read her entry, you'll see a sketch of her special four-poster bed and discover what her family's coat of arms declares. Gracing the cover, Princess Hot-Head is one that I can't help but draw comparisons to when I think of my own little hot- (and red-) headed daughter. My personal favorite, though, can be found in her library, writing her autobiography and reading anything she can get her hands on- Princess Paige, always with a book in her hand. (Methinks that some of you might identify with her, as well!) Interspersed among the pages devoted to particular princesses are informational sections on such important matters as The International Alphabet of Fans, Coats of Arms and Flags, maps, and popular kingdom pets, among other topics.
Honestly, one quick browse through this book's pages will amaze children and adults alike. Intended for an audience of readers aged seven and up, the text certainly skews older, but even my own two and four year old children adore looking at the striking illustrations with beautiful color palettes. (I can imagine a playroom with walls adorned with large prints of Dautremer's incredible pictures… I'd want to hang out in there!) A creative and often sophisticated sense of humor pervades this coffee-table sized thick picture book, and the whole package just invites readers to return to its pages again and again.
Now Sterling Publishing is pulling out all the stops to promote this book that they have much reason to be proud of! You can become a fan on their Facebook page, Being a Princess, or play around on their official website, The Secret Lives of Princesses, where sneak previews and interactive games await you. You can even take a few minutes to quiz yourself and discover what kind of Princess you are! (Sadly, I discovered I am no true princess at all… oh well.)

In addition, we're happy to announce a giveaway of one copy of the delightful The Secret Lives of Princesses to a lucky reader. Just leave one comment here, U.S. and Canada residents only, please. Our winner will be announced on June 9th.
Our winners of the giveaways closing this week are:

Council of Dads: #3 Jen Thomas
Activity Books for Kids – #11 – Anne at Little Sprout Books
Check out our current giveaways. Subscribe to our feed. Follow us @5M4B on Twitter.
Princess Dawn and her royal crew appear as the central characters on her blog, my thoughts exactly.