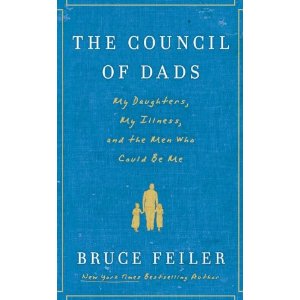 When Bruce Feiler is diagnosed with cancer, he wonders what his two young daughters would do if he wasn't around. That led to his idea of forming a "council of dads" to be his voice.
The Council of Dads is not at all maudlin, as a book written by a guy at a time when he is pondering/fearing his own death might be. It's really a story about men — men's friendships and fatherhood specifically.
Feiler tells the story of his "lost year" (the year he underwent treatment) with letters that he wrote to friends detailing how the family was handling each step of treatment, chapters introducing each of the men he invites to join the council and telling about how he met them, and flashbacks to early life with his wife and daughters.
It was well-written, interesting, and not overly self-indulgent. There aren't many books that look at a man's life in this way. I recommend it.
It would probably make a great gift for a father — yours or the father of your children, or perhaps better still a great read for women like me who long to understand the elusive nature of men's relationships.
We have two copies to give away (U.S. residents only). Please leave a comment to enter. We'll announce the winners on May 26.

Jennifer Donovan has never made up a council of moms, however she is so thankful for all those friends who come alongside her in her parenting journey. She blogs at Snapshot when she's not writing local news stories or book reviews.