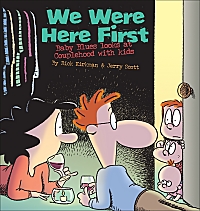 I'm seriously getting into comic strips again these days. I never would have suspected, since I've seldom paid attention to comics since I was, oh, say about 14. But lately they've held some appeal for a quick laugh or chuckle and "Ah HA!" moments.
That said, I just finished devouring We Were Here First
: Baby Blues Looks at Couplehood with Kids. Neither I, nor Jonathan had ever read Baby Blues before. As we've been reading along with this particular book, we've found ourselves laughing outloud and pointing out particular strips that represent us. And oh my goodness, Darryl and Wanda MacPherson ARE us! It's incredible!
Having recently added to our family, life isn't as calm and restful as it was when we only had one child. I can't remember what we did before we had children so I can't speak to that time period. We Were Here First
speaks to us in the present. I identified with the harried mom look who reaches the end of her rope, causing there to be a great need for take-out food. Jonathan identified with Darryl in rushing to work and then coming home to relieve the aforementioned harried mom. It's our life and we love it and this book gave us reason to laugh about it.
Things that made sense to us:
* Hiding in the closet to escape the children for at least 5 seconds.
* Finally crashing into bed at 1:30 a.m. due to trying to accomplish household tasks and projects after the kids went to bed. (10:30 p.m.? That's mommy's 'quiet time'!)
* Not being able to remember the last time I experienced 10 seconds of uninterrupted silence during the day.
* Being sneezed on and having children throw up randomly.
* Endless loads of dishes
* Daddy doing the teeth brushing (because mommy finds that a disgusting project)


(The above strip is not in this particular book but I got carried away looking at the Baby Blues website and found this one in my explorations!)
If you haven't checked out Baby Blues, but you are a parent in need of a good laugh and a reminder that all you do is worth it in the end – this is a great strip!
Chuckling away, thanks to Andrews McMeel Publishers!
Carrie comes by her book obsession honestly, having descended from a long line of bibliophiles. She blogs about books regularly at Reading to Know and Reading My Library.