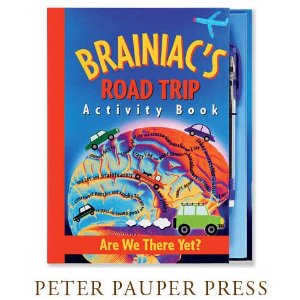 It's getting close to the time when mothers and fathers everywhere are trying to locate resources and activities to have on hand for summer doldrums or as distractions during road trips. To that end, I'd like to point out a couple of things as a suggestion, both offered by Peter Pauper Press.
Brainiac's Road Trip Activity Book
is a great thing to toss in the backseat of the car right before you take off on your adventure. It's recommended for ages 4-8 but I don't think my son, at 3 1/2 is remotely close to being ready to tackle some of the world puzzles in this book all by himself. If you are looking for things that the kids can do by themselves, I would say that this is probably more in the range of 6-10ish (11? 12?) This book contains ideas for memory games you can play in the car, word scrambles, vehicle identification games, and geography games.
It also includes pages to accommodate a good old fashioned game of connect the dots and tic-tac-toe squares. There is a page spread to keep track of license plates that you've seen from the various states. There are pages for drawing with creative suggestions, several pages for a good game of Hangman (a personal favorite) and even a "reward page" for the child (or the adult?) to reward themselves for making it through the road trip in one piece! It comes with an erasable pen and is an easy carry-along size, so that it won't take up very much of that valuable car space! Brainiac's Road Trip Activity Book
is a cute way to keep the kids entertained.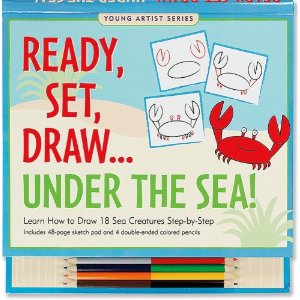 My son's eyes bugged out of his head when he saw Ready, Set, Draw Under the Sea!
(So, for the record, did mommy's!) This is one seriously nice drawing book. First of all, it's in a hardbound spiral format for easy reference and durability. (I LOVE hardbound spiral books! Love 'em! Love 'em!) There are 18 page spreads giving you instructions on how to draw your favorite sea animals, from walruses, to octopuses (!!), to crabs and – be still your little heart – even NEMO! (Or a clown fish that happens to look like Nemo at any rate!)
This book also comes equipped with four two-sided colored pencils (8 colors total) and a 48 page drawing pad. The pencils are secure in their holder that sticks to the book so you don't have to worry about losing them anywhere. This book is square shaped and a bit more awkward to cart around, but it also contains everything a little artist could want or need! WE. LOVE. IT! While Bookworm1 knows of this book's existence, (and has studied it carefully already), I'm keeping it back until later in the summer when I really, really need a special activity to pull out and distract him with. In the meantime, every scrap of paper you find around our house has jellyfish and octopuses drawn all over them. It's a fun world!
Now, one of you have an opportunity to WIN both of these books, thanks to Peter Pauper Press. They have offered a copy of each to one of our readers here. To win? Simply leave a comment below! This contest is open to U.S. Residents only.
We'll announce the winner on May 26.
Happy Early Summer to you!
Check out our current giveaways. Subscribe to our feed. Follow us @5M4B on Twitter.
Carrie comes by her book obsession honestly, having descended from a long line of bibliophiles. She blogs about books regularly at Reading to Know and Reading My Library.