Wendy Mass has done it again.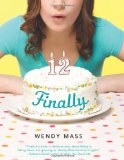 Amanda has been a fan of Wendy Mass for a while. She read Jeremy Fink and the Meaning of Life when it was nominated for our state book award. After that she zipped through most of her other books, reading 11 Birthdays as soon as it came out and begging me to do the same. I have now read three Mass books, and enjoy the clever, imperfect quirky, tweens who are usually involved in some sort of fun adventure.
They are great books for kids ten and up who are looking to make that transition from "kids' books" to Young Adult fare. They deal with typical middle school issues, yet in a completely age-appropriate way — either for those who are that age, or for those who will be soon.
In Finally, Rory is finally turning 12, which means she will finally be able to do all those things that her overprotective parents have been promising her that she could do when she turned 12, including get a cell phone, shave her legs, stay home alone, get a pet and more. She knows — she's been keeping track. The novel deals with her response to dealing with all of these new areas of responsibility and privilege. I'll give you a tip off to say that all of these things do not go off without a hitch.
Amanda (11 1/2) enjoys these books because they are funny and relatable, or simply because "Wendy Mass is awesome." I enjoyed this book (and the others I've read) because it made me remember what it was like to be 12. I'm far from 12, but Amanda is quickly approaching that age, and exploring tween angst is much easier via literature than the school of hard knocks!
I also like the way parents are portrayed in her novels. They might be over-protective, or under-involved, a little kooky, and embarrassing, but they aren't buffoons. They are parents, as viewed through the eyes of their kids. But for example, in Finally, they lived up to their promises, and we saw a little glimpse of their side of and letting go a little to give their daughter a chance to grow up.
I have two hardcover copies of Finally to give away (U.S. and Canada shipping addresses). Leave a comment to enter. We'll announce the winners on May 12. This giveaway is closed.
This book is probably best for girls, but another thing I love about the other two books mentioned above, is that they appeal to boys and girls. And don't forget that I can highly recommend this book to anyone who once was 12, regardless of how old she is now.
Jennifer Donovan relives her own life as she watches her kids grow up. She shares random observations at her blog Snapshot.