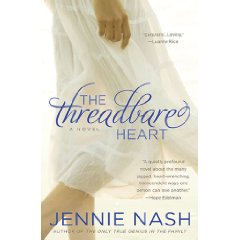 The Threadbare Heart is a story about a mother and a daughter torn apart by grief, jealousy and
misunderstanding — and the family heirloom that finally brings them together. To celebrate its
publication, and in honor of Mother's Day, we are joining with Jennie Nash, the author of The Threadbare Heart, and hosting a contest. Who is your favorite fictional mother and daughter?
We want to know which fictional mother-daughter pair made you laugh? Made you cry? Made you cringe? Which pair revealed something true about your own mother-daughter relationships? (And yes, mothers and daughters in film are eligible too).
Just leave a comment here with your entry about your favorite fictional mother-daughter pair. Be creative in your response. Your entry can be up to 250 words (This post to the 5th paragraph ending "understand" is about 250 words) and will be judged on writing style and content (answering who was your favorite and why).
The winner's entry will be posted here on Sunday May 9. That winner will receive a signed copy of The Threadbare Heart, a book about an estranged mother-daughter pair who are brought together in grief. Only one entry (on any blog) per person. This contest is open to U.S. shipping addresses only. You must submit your entry by 8:00am Eastern on May 8. See other participating blogs at JennieNash.com.
The author Jennie Nash will look at each blog's winning entry and select the Grand Prize winner. The Grand Prize winner will receive a Book Club in a Box — ten signed copies of The Threadbare Heart, a call-in from the author, and a delicious rum cake to share with your book-reading friends. (Why rum cake? You'll have to read the book to understand!)
Even if you're not in a bookclub, this prize would be a great excuse to host a girls' night in, perhaps getting together with some of your real-life favorite mother-daughter duos.
You can read my full review of The Threadbare Heart at 5 Minutes for Mom, and leave a comment over there to enter to win a signed copy of the book (through May 16).
Read the first chapter of The Threadbare Heart and see if you like it as much as I do.
To sum up — two contests here:
You can enter to win a copy of the novel and read my review over at 5 Minutes for Mom through May 16
Leave your entry in the comments about your favorite Mother-Daughter duo right here on this post for a chance to win a copy of the book, have your entry published here, and be entered for the grand prize, through May 8 at 8:00am Eastern
Jennifer Donovan blogs at Snapshot, not nearly as insightfully as Jennie Nash does in her novels.