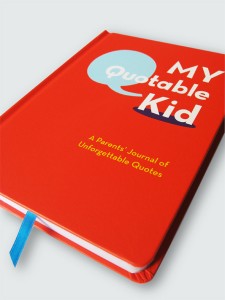 One of the things I am most thankful that my mother-in-law did in recording my husband's childhood was recording all of the funny things he said when he was younger. All of my in-law siblings have these amazing scrapbooks full of their own quotes and whenever we look through them we spend time laughing and snickering at what everyone said. It's so hilarious spending time with your spouse when their logic was still in development stages!
So, when I saw that Chronicles Books offered My Quotable Kid
: A Parents' Journal of Unforgettable Quotes I knew I had to have a copy for our family! I do like to scrapbook, and I copy down statements that I want to save and remember to include. However, I don't always have the time to scrapbook that I might like. I also wasn't sure how useful having a book specifically designed to hold my children's quotes would be. My enthusiastic self was at war with my skeptical self over this one. However – a few months into the use of it – I'm happy to report that my enthusiastic self has won out! This little resource is incredible!
Each page is designed for one quote/situation that you want to document for posterity (and future spouse's) sake. There's a place to write down who made the statement, when they made it, how old they were and where the remark took place. I keep this on my desk and whenever the kids say something that I want to remember, I just pick up my handy-dandy little quote book and jot it down. Here is one of the quotes I quickly marked down:
When having a discussion with mommy about something Bookworm1 wanted to have happen, the following conversation was had:

Mommy: I don't know about that.
Bookworm1: Well *I* know about that.
Mommy: You know about everything.
Bookworm1: Well yeah. I do.

Because he's 3 you know, and of course he knows everything!
Or this one:
Mommy & Bookworm1 were planning to make a cake, but Bookworm1 had asked daddy to make it.

Daddy: Who makes cakes?
Bookworm1: Mommy does the making. Daddy does the working.
Daddy: What do you do?
Bookworm1: I do the playing.
There are 144 pages in this book and I probably wouldn't use the whole thing just on Bookworm1. So I've used it to mark down things that Bookworm2 is starting to say or situations that the littlest one among us creates, causing laughter. I suppose they or their future spouses will have to argue over who gets the quote book when they are older but for now it's my special memory book wherein I record and enjoy all of their little toddler moments which are innocently hilarious.
I think My Quotable Kid
is a GREAT resource to have on hand and I intend to gift it to new parents in the future so that they can record the things that their children say. I know from experience that having the memories of what my husband and his siblings said when they were young is a gift of much laughter and I'm happy to take a few minutes here and there to remember the way that my little bookworms' minds worked at various stages of life.
To children and the laughter they produce!
Carrie comes by her book obsession honestly, having descended from a long line of bibliophiles. She blogs about books regularly at Reading to Know and Reading My Library.