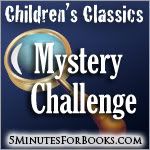 This is the next-to-last month for the Children's Classics Mystery Challenge. From January through June, we purposefully set out to re-read some of our favorite children's detectives. It's been a fun journey, checking back into the worlds of Cherry Ames, The Dana Girls, Nancy Drew – 1939 ed., and Trixie Belden.
There was one mystery-lovin' boy though that I had never made the acquaintance of in my growing up years. A number of you were revisiting him during this challenge and were egging me on to read him for myself. This month I am happy to tell you that I have corrected a reading deficiency of mine — I read Encyclopedia Brown, Boy Detective
. I am also happy to tell you (and my husband both!) that I am now a confirmed friend of Encyclopedia Brown!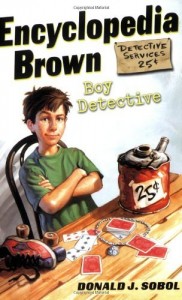 Now, I might have liked E. Brown had I just picked him up on my own. I might have appreciated the fun of him based solely on the fact that my bloggy friends recommended him. I might been sentimentally in favor of Brown, based on the fact that my husband read him voraciously growing up. But the reason I LOVE Encyclopedia Brown is because Jonathan and I just finished watching the entire Monk television series. E. Brown is a boy Monk (just more outgoing and less OCD)! I read the first ten mysteries in Boy Detective
and figured this is a series I could get excited about. I had fun trying to solve the mysteries before looking up the answers. (I succeeded about half of the time.) Jonathan said that he read these books with his dad when he was younger and the two of them would try to solve the mysteries together. (THOSE are the fun memories of childhood.) I don't have childhood memories of Brown, but coming off of an emotional good-bye to Monk (yes, this is indeed a television show we grew a little obsessive about!) and being totally unable to connect with any other television character (not that we try very hard) I was full of glee reading about E. Brown. It was like starting Monk over from scratch and imagining his powers of observation at a young age. I read Encyclopedia Brown, Boy Detective
with a grin on my face and I can imagine that we'll be grinning over him for some time in our household. I'm so glad to know that there are so many books in the Brown series. I'll be looking for more in the near future!
It's a consolation prize for the Monk I miss.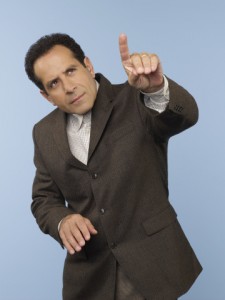 So are there any children's mystery detectives that you miss? I'm curious to see what you all read this month and I would remind you that you only have one more month to read a mystery as a part of this challenge. We've come up with some fun ideas for what Children's Classics will look like post-June which we'll tell you about later. Stay tuned for that! In the meantime, one more month to "cram." If you haven't participated in this challenge yet – feel free to jump right in! There's no better time like the present!
Check out our current giveaways. Subscribe to our feed. Follow us @5M4B on Twitter.
Carrie doesn't connect to television characters very easily, if you were wondering. But when she does – oh my! Most of the time, she enjoys her detective stories in the books she reads and blogs about at Reading to Know.